UPDATE: Philadelphia Redevelopment Authority Returns Studio Deed to Artist James Dupree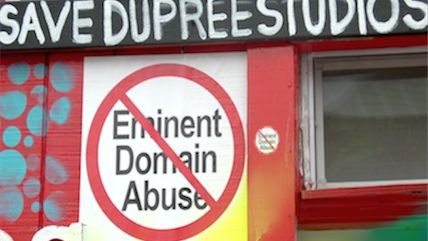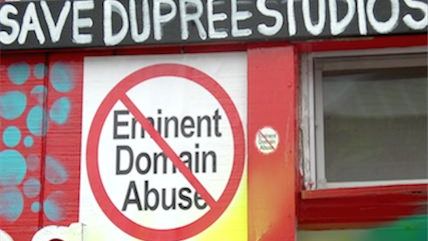 After mounting legal fees and media scrutiny, the Philadelphia Redevelopment Authority (PRA) dropped its plan to seize artist James Dupree's Mantua-based studio and turn the property into a grocery store.
Dupree and his supporters welcomed PRA's announcement on their blog: "After years of fighting the system, we have finally received written notice that the deed to our property is finally being returned!"
PRA however is taking it rough.
By not handing over his property, they claim Dupree is putting lives in danger.
In their release statement PRA states, "the inability to acquire Mr. Dupree's property puts the prospect of bringing fresh food to this community at serious risk," like "obesity, heart disease, [and] diabetes."
To learn more check out Reason TV's coverage of Dupree's legal battle against the city above.
"Philly Artist Fights City Hall Over Eminent Domain Abuse" Produced by Joshua Swain.
Original release date was March 13, 2014 and the original writeup is below.
Philadelphia's James Dupree is an accomplished artist whose work has appeared in museum all over the world, including his hometown's Philadelphia Museum of Art andAfrican American Museum.

In 2005, Dupree bought a dilapidated warehouse in the City of Brotherly Love's Mantua neighborhood and worked to turn it into a studio that hosts his personal workshop, art classes, and even visitors through Airbnb.

That's all being threatened by the Philadelphia Redevelopment Authority (PRA), a local government agency that is supposed to revitalize distressed neighborhoods.