New York Times Wants NYPD to Do the Impossible: Enforce All the Laws, Even the Constitutionally Questionable Ones, While Practicing 'Constitutional' Policing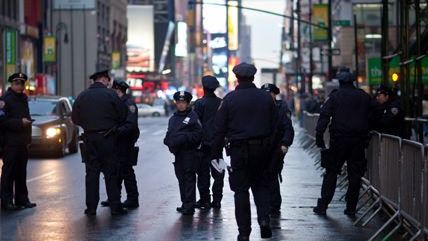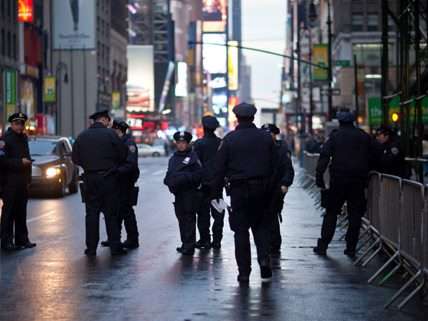 Something interesting happened at the tail end of last year. There had been months of protest about the use of excessive force by police and the lack of accountability thereof, but little had been done. When a nut from Maryland who tried to kill his girlfriend showed up in Brooklyn and murdered two NYPD cops in cold blood, it looked like the isolated incident might be enough to knock the wind out of a burgeoning but unfocused protest movement. It's still too soon to tell if that happened.
Police officers, and especially the unions who represent them, responded to the murder of two cops by freaking out. The president of the Police Benevolent Association said Mayor Bill de Blasio had blood on his hands for daring to talk to protestors. New York City police officers were told they were operating in a "warzone" now.
One byproduct of this frenetic response by police is a collapse in low-level petty law enforcement and "unnecessary" arrests. Although the numbers are only available for one full week, they show an up to 84 percent drop in drug arrests and a 92 percent drop in parking violations, compared to the same time a year earlier. This kind of deprioritization of enforcement of petty laws, which tend to disproportionately affect poor and marginalized communities, is an important step not just in making policing safer for police and those they are ordered to police but in restoring the practice of constitutional policing. Laws that appear unconstitutional, laws that deal with consensual, private, nonviolent behavior, are difficult to enforce constitutionally.
Nevertheless, The New York Times has joined The New York Post in freaking out over the police decision, apparently independent of city hall, to stop enforcing petty laws that generally affect poor and marginalized communities. The Times' editorial board writes:
The furor that has gripped the city since the Garner killing has been a complicated mess. But what New Yorkers expect of the Police Department is simple:

1. Don't violate the Constitution.

2. Don't kill unarmed people.

To that we can add:

3. Do your jobs. The police are sworn public servants, and refusing to work violates their oath to serve and protect. Mr. Bratton should hold his commanders and supervisors responsible, and turn this insubordination around.
There are, of course, legitimate concerns when a polity's security forces refuse to follow the orders of the civil government. But as Bill Bratton, the NYPD police commissioner, said after the death of Eric Garner in police custody, correcting your behavior when approached by police is "what democracy's all about." Refusing to enforce democratically constructed laws, then, may certainly be undemocratic. It can also make constitutional policing easier by allowing cops to focus on actual criminal behavior and not nanny-state laws imposed on the poor and marginalized communities leading the protest against unconstitutional policing.
A lot of the blame for today's policing problems lies with cops, and especially their unions, but in a democracy there's a lot of blame to go around. The Times may sanctimoniously claim New Yorkers want constitutional policing and for cops to enforce all the laws, but New Yorkers, in their political preferences, have made that nigh mutually exclusive. And that's certainly not the fault of the police.