The NYPD Shoots and Kills Less Often Than Cops in the Rest of the Country
Fatal killings by the NYPD have fallen by a factor of 12 since 1971.
On July 17, NYPD Officer Daniel Pantaleo brutally choked to death Eric Garner, an unarmed man. On November 20, NYPD Officer Peter Liang shot and killed Akai Gurley, who was also unarmed, in the stairwell of a Brooklyn housing project. On December 9, an NYPD officer shot and killed Calvin Peters, who had just stabbed another man at a Brooklyn synagogue and reportedly lunged at the police with a knife. Last week, NYPD Commissioner Bill Bratton announced that the department would purchase an additional 450 tasers as a "nonlethal method officers could use."
One of the most common chants at the two anti-police abuse protests I covered recently (see here and here) was: "NYPD, KKK, how many people did you kill today?"
Let's be clear: One fatal shooting by a cop is one fatal shooting too many. And the horrifying murder of Eric Garner is indicative of big problems at the NYPD, and let's hope that the recent protests lead to meaningful reforms.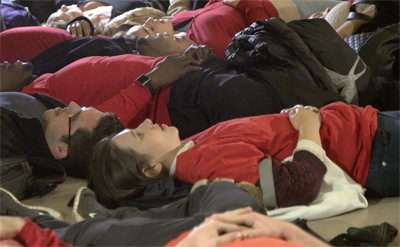 But when attending these protests, one might get the misimpression that the NYPD stands out among the nation's police departments in its overuse of deadly force. In fact, New York cops shoot and kill many fewer people than cops in the rest of the country. And fatal shootings by the NYPD have fallen significantly over the years.
In 2013, eight people were shot and killed by the NYPD. New York City had 8.4 million residents in 2013, so that works out to about one fatal shooting per million residents. As Scott Shackford has noted, there are no reliable national stats to compare this to. But even if we accept the FBI's lowball figure of 461 fatal shootings by cops in 2013 (the real figure may be more than double that), that translates to 1.5 people killed by cops for every one million U.S. residents, or a rate that's about 50 percent higher than in New York City.
And the historical numbers demonstrate that—thankfully—ubiquitous cameras and social media are raising public awareness of these issues. In 1971—both an unusually violent year and the first year the NYPD started reporting these stats—93 people were shot and killed by cops in New York City. The city's population was 7.8 million in 1971, so that works out to about 12 killings for every million residents!
I put together a chart (see below) showing how fatal shootings by the NYPD have fallen since 1971 per million New York City residents.
H/T: Harry Siegel's Twitter feed.