Senate Democrats Surrender to Republican Pot Prohibitionists, Nullifying Legalization in D.C.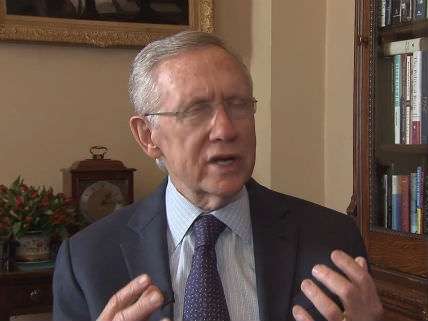 Contrary to what National Journal reported yesterday, it looks like Senate Democrats have agreed to a spending rider that will not only prevent legal marijuana businesses from opening in Washington, D.C., but will also block legalization of possession, home cultivation, and sharing. The Washington Post reports that the rider, which applies through next September, would bar the District from implementing Initiative 71, the marijuana legalization measure that was approved by nearly 70 percent of D.C. voters last month.
The initiative does not address commercial production and distribution, but it eliminates penalties for possessing two ounces or less, transferring up to an ounce without payment, and growing up to six plants (three of them mature) at home. The rider described by the Post would prevent the District from legalizing those activities. According to a summary from House Appropriations Committee Chairman Hal Rogers (R-Ky.), an ardent pot prohibitionist, the latest version of the omnibus spending bill "prohibits both federal and local funds from being used to implement a referendum legalizing recreational marijuana use in the District."
The Post says "the rider language mirrored an amendment introduced over the summer by Rep. Andy Harris, (R-Md.), the most outspoken congressional critic of D.C. legalization." The earlier Harris amendment would have barred the District from spending money "to enact or carry out any law, rule, or regulation to legalize or otherwise reduce penalties associated with the possession, use, or distribution" of marijuana or any other Schedule I drug. For more than a decade, Congress used a similar spending restriction to block implementation of a medical marijuana initiative that D.C. voters approved in 1998.
The Post says this rider "could also roll back a law passed by the D.C. Council and signed by Mayor Vincent C. Gray (D) in the spring to join 18 states that have eliminated criminal penalties for marijuana possession." If so, possessing up to an ounce, currently a citable offense punishable by a $25 fine, would become a misdemeanor again. But it's not clear how Harris' language would accomplish that. Possession has already been decriminalized, and maintaining the status quo does not require any additional expenditures. To the contrary: Reversing decriminalization would mean spending money to arrest and prosecute cannabis consumers who currently get tickets. Harris himself says "decriminalization…is allowed under the omnibus language."
Overriding the will of D.C. voters, who backed Initiative 71 by margin of more than 2 to 1, would be bad enough. Yesterday afternoon, Senate Majority Leader Harry Reid (D-Nev.), who ought to have some say in the matter, declared that "the District of Columbia should do what they want to do." But by last night Reid and his fellow Democrats had agreed to nullify the changes that the District's residents clearly want.
"It is disheartening and frustrating to learn that once again the District of Columbia is being used as a political pawn by the Congress," said D.C. Council Member David Grosso, author of a bill aimed at licensing and regulating marijuana businesses. "To undermine the vote of the people—taxpayers—does not foster or promote the 'limited government' stance House Republicans claim they stand for; it's uninformed paternalistic meddling."
Addendum: See this post for reasons to doubt that the Harris rider actually will prevent Initiative 71 from taking effect.