History Suggests Fewer NYC Pot Busts May Not Signal the End of Civilization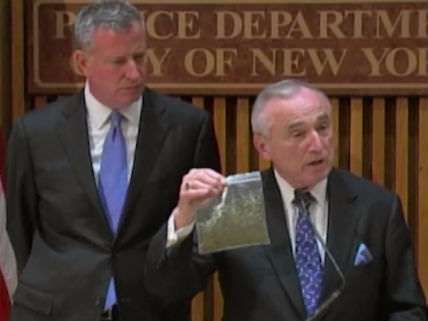 Yesterday the New York Police Department announced a new policy under which people caught with small amounts of marijuana in public generally will not be arrested but will instead be cited for a violation punishable by a maximum fine of $100. Police union officials were not pleased. "I just see it as another step in giving the streets back to the criminals," Michael Palladino, president of the Detectives' Endowment Association, told The New York Times. "And we keep inching closer and closer to that."
Palladino's comments were reminiscent of the response from Ed Mullins, president of the Sergeants Benevolent Association, to a recent report that the NYPD will no longer use "buy and bust" tactics to nab small-time pot dealers. "If the current practice of making arrests for both possession and sale of marijuana is, in fact, abandoned," Mullins told the New York Post last week, "then this is clearly the beginning of the breakdown of a civilized society."
Some historical perspective might allay the fears of those who believe that civilization cannot survive a reduction in pot busts. New York's legislature decriminalized marijuana possession way back in 1977, making people caught with up to 25 grams (about nine-tenths of an ounce) subject to the aforementioned fine instead of arrest and possible jail time. Possessing marijuana that is "burning or open to public view," a.k.a. "criminal possession of marihuana in the fifth degree," remained a Class B misdemeanor, punishable by a $500 fine and up to three months in jail. But according to data gathered by Queens College sociologist Harry Levine, arrests for that offense were relatively rare from 1978 until 1997, the fourth year of Rudolph Giuliani's administration, when they increased dramatically from fewer than 10,000 to almost 18,000. After that they kept climbing, peaking at more than 51,000 in 2000 but never again dropping below 27,000.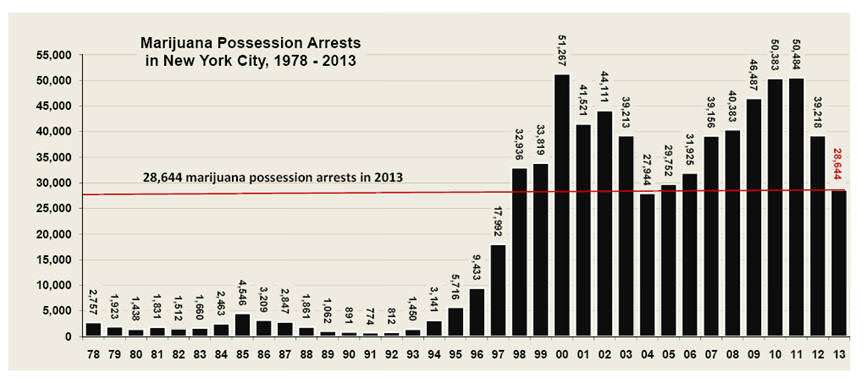 Levine found that the NYPD averaged 2,259 minor pot busts a year under Ed Koch, 982 under David Dinkins, and 24,487 under Giuliani. Michael Bloomberg outdid even Giuliani, presiding over a cannabis crackdown that generated an average of nearly 39,000 low-level possession arrests a year.
There are several possible explanations for this enormous increase in pot busts. Perhaps cannabis consumers suddenly became much more brazen, waving their weed under cops' noses in a way they didn't from 1978 through 1996. Perhaps they always carried their cannabis conspicuously, and cops suddenly decided they would no longer accept such ostentatious violations of the law. Or perhaps cops started to bust people for having marijuana "open to public view" after patting them down or instructing them to empty their pockets during street stops.
Those explanations are not mutually exclusive, but reports from defendants and their lawyers suggest that the practice of transforming violations into misdemeanors by bringing marijuana into "public view" was pretty common. It was common enough to generate an extraordinary 2011 directive from Ray Kelly, Bloomberg's police commissioner, reminding his officers that such trickery is illegal. "To support a charge [of criminal possession], the public display of marihuana must be an activity undertaken of the subject's own volition," Kelly wrote. "Thus, uniformed members of the service lawfully exercising their police powers during a stop may not charge the individual with [criminal possession] if the marihuana recovered was disclosed to public view at an officer's discretion."
It so happens that 2011 was the peak year for pot busts during the Bloomberg administration, so maybe Kelly's memo had an impact. Marijuana arrests fell from more than 50,000 in 2011 to fewer than 29,000 in 2013. The decline also coincided with a sharp drop in stop-and-frisk encounters.
The Times notes that "critics have said the police and prosecutors have been improperly charging people with possession of marijuana in public view, often after officers ask them to empty their pockets during street stops." But yesterday Kelly's successor, Bill Bratton, "said such practices were not now in use and the problem had been fixed." If so, it's a bit mysterious how the new policy will result in fewer pot busts, especially since the NYPD will continue to arrest people who are openly smoking cannabis. Will the impact be confined to people who have removed joints from their pockets but have not lit them yet?
However the NYPD manages it, any reduction in pot busts will be an improvement, and Mayor Bill de Blasio deserves credit for belatedly following through on his promise to change an "unjust and wrong" policy. But if you worry that the shift signals the end of civilization, note that the NYPD could cut low-level possession arrests in half and still bust a lot more pot smokers than it did in any year prior to 1997.