New Halloween Menace: Meth in Your Kid's Candy Bag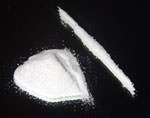 Just in case parents get tired of fruitlessly searching trick-or-treat bags for marijuana-infused candy, a new Halloween scare is in the works. The San Jose Mercury News reports that "police in Hercules are trying to determine who gave a plastic bag of methamphetamine to a young girl on Halloween, and are reminding parents to inspect their children's candy haul for suspicious items." This new menace is promising, since meth is scarier than marijuana, but it has a definite disadvantage: There is no indication that anyone tried to disguise the meth as candy. Far from the strawberry-flavored meth of legend, it was just 0.1 gram of white powder in a tiny zip-lock bag—but still enough to support a felony possession charge, according to police, which gives you a sense of how insane our drug laws are.
"This could have been intentional, or it could have been accidental," Hercules police Sgt. Ezra Tafesse told the Mercury News, "and we won't know until we speak with the person who did this." Or as KNTV, the NBC station in San Jose, puts it, "police are unsure if the meth found were given to the child intentionally or on accident." On accident, I'm guessing, since the prank potential seems very low, given the lack of resemblance between the meth and any candy kids are apt to get on Halloween.
Speaking of accidentally distributing drugs to children, Hercules, a city of 24,000 in the San Francisco Bay Area, was the location of another such Halloween incident, this one involving marijuana. It was the closest thing I could find to trick-or-treaters getting cannabis candy instead of the regular kind: Back in 2000, marijuana buds stuffed into wrappers from miniature chocolate bars turned up in children's trick-or-treat bags. Hercules police traced the pot to a postal worker, who obtained it from an undeliverable package without realizing what was actually inside the wrappers. The San Francisco Chronicle explained:
The treats were the product of a failed and undetected attempt to mail 5 ounces of marijuana to someone in San Francisco, said Hercules Police Chief Mike Tye.

"Somebody tried to mail it and didn't have enough postage or the address was wrong," he said.

Because the package, which contained four bags of Snickers bars destined for San Francisco, did not have a return address, it landed in the dead-letter office—where it was taken by a postal employee who planned to hand the candies out to trick-or-treaters.

"A lot of their dead mail, stuff that's nonperishable, is given away to charity," Tye said. "(The employee) picked up the candy along with a bunch of canned goods. He took the other items to a church but kept the candy."
Because police were convinced that the postal worker had made an honest mistake, he was neither charged nor publicly named. His error is obviously quite different from deliberately giving out marijuana-infused candy disguised as unspiked versions of the same products: Not only was the marijuana distribution inadvertent, but no one would mistake marijuana buds for a Snickers bar once the package was opened. Press coverage of the incident may nevertheless have fed rumors about malicious strangers trying to trick kids into ingesting cannabis—just as this meth story may transmogrify into something more sinister.
According to the Mercury News, by the way, Sgt. Tafesse said "it is unusual for drugs to be slipped into Halloween candy, but it happens from time to time, especially with marijuana." He did not cite any actual cases.