Putin Spanks Obama in New Russian Propaganda Art Gallery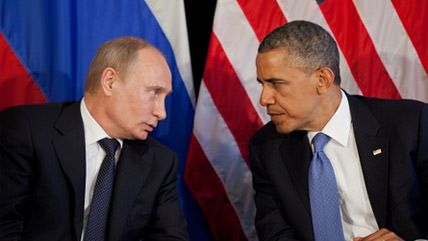 Vladimir "Putin is a gift to caricaturists," said Barry Blitt, a New Yorker artist, when he designed a Sochi Olympic-themed cover earlier this year, featuring the Russian leader in frilly ice skating attire. The caricature artists of Russia take a very different approach. On Friday a gallery titled "No Filters" with the work of about 100 cartoonists opened in Moscow, and just about all their images show Putin favorably: as a strongman, a political chess master, and a fighter against fascists and terrorists. In one conspicuously large work, Putin is spanking President Barack Obama, who has the body of schoolboy.
"Targeted sanctions," the caption on that caricature reads – a jab at America's economic strategy against Russia's war of aggression in Ukraine. Another image shows Putin tugging on Obama's ear, scolding him not to "touch" Ukraine again. A third shows Obama and Ukraine's president, both dressed as peasant girls working the fields, cowering from Putin who sits atop a tank and asks, "Hey girls, have you seen any fascists here?"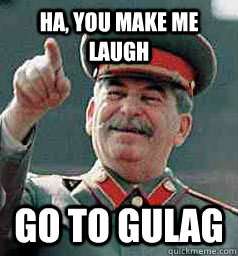 There is some truth to the first image, at least. Putin has run circles around the U.S. when it comes to the war in Ukraine. The Obama administration has called for an end to Russian aggression since Putin invaded Crimea. The U.S. has tried to put pressure on Russia by initiating first targeted sanctions and then broad ones. That began in March, and yet Russia's military incursion persists to this day, and has grown worse. Obama gave his own policies credit as being "the only reason" a ceasefire was agreed upon in September – some of the bloodiest fighting started shortly thereafter. And, in spite of strong rhetoric one week, like the U.S. "will not accept Russia's occupation and illegal annexation of Crimea or any part of Ukraine," Obama allegedly privately admitted around the same time that Crimea was "gone" for good.
Obama's shortcomings aside, Putin is not the savvy strongman his propagandists present him as. Russia's currency continues to hit record lows, and the nation's economy is at recession levels. And the annexation of Crimea leaves Russia with a 10,000-square mile welfare money pit.
That Putin is fighting against fascism is laughable. The "Young Guards," the youth-wing of his political party, set up the gallery to display the work of "patriotically oriented artists" who want to "restore in the minds of citizens respect and pride in their country."
A poll last month showed about half of Russia ns believes Putin has a cult of personality. Another poll shows about half of Russians fears Soviet-style mass repression will return in their lifetime. Reason has talked to several Russian libertarians about Putin's domestic crackdown on political opposition and the press.
On Friday, I reported on the return of Cold War-type action, like Russia flying nuclear-capable bombers over Europe.