Who Will Legalize Marijuana Next Week?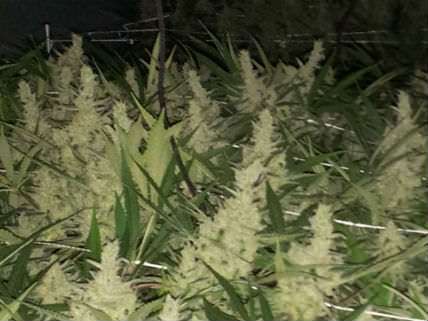 A week before Election Day, it looks like at least one of the four major marijuana initiatives will pass, while the other three races are too close to call. Here is a rundown of the latest polling, arranged by likelihood of passage:
Washington, D.C. Initiative 71, which would make it legal for adults 21 or older to possess up to two ounces of marijuana and grow up to six plants at home, enjoyed a 2-to-1 advantage in a Washington Post poll conducted last month, with only 2 percent undecided. As I noted at the time, the initiative's prospects were boosted by a dramatic reversal of opinion among black voters in recent years, presumably driven by concerns about the racially disproportionate impact of marijuana prohibition. Despite this groundswell of support, the fate of marijuana legalization in the nation's capital ultimately will be up to Congress, which can always override anything that D.C. voters approve.
Oregon. A new Oregonian poll puts support for Measure 91, which would legalize commercial production and distribution as well as possession and use, at 44 percent, with 46 percent opposed, 7 percent undecided, and 2 percent declining to say. That two-point difference is within the poll's margin of error, so the results suggest a dead heat. By comparison, a poll conducted earlier in October, commissioned by Oregon Public Broadcasting and the Fox station in Portland, put support at 52 percent, with 41 percent opposed and 7 percent undecided. The sample in the latter poll was somewhat younger, based on different projections of who will vote. Turnout by younger voters, who are consistently more likely to support legalization, could be crucial to the outcome.
Alaska. Surveys by Public Policy Polling put support for Measure 2, which like Oregon's initiative would create a legal marijuana industry, at 48 percent in May and 44 percent in August. A few weeks ago supporters and opponents of Measure 2 released dueling poll results showing the initiative winning by eight points and losing by 10 points, respectively. In a survey by pollster Ivan Moore, 57 percent of voters favored legalization, while 39 percent opposed it. A Dittman Research poll put support at 43 percent and opposition at 53 percent. Both showed 4 percent of voters undecided. The wording of the poll questions was somewhat different. The Ivan Moore survey mentioned the elimination of criminal penalties for possession of up to an ounce and noted that "constitutional protections allowing home cultivation would be preserved," a reference to the 1975 Alaska Supreme Court ruling that said the state constitution allows people to possess marijuana for personal use in the privacy of their homes.
Florida. Support for Amendment 2, which would make Florida the first Southern state to approve medical use of marijuana, seems to have plummeted since July, when a Quinnipiac University poll found that 88 percent of voters favored the measure. A Gravis Marketing poll conducted last week puts support at 50 percent. As a constitutional amendment, the initiative needs 60 percent to pass. "Medical marijuana is done," Gravis Marketing's managing partner told the Orlando Sentinel on Monday. "It will not pass." For those clinging to hope, United We Care, the Amendment 2 campaign, cites an Anzalone Liszt Grove poll it commissioned that puts support at 62 percent. The latter poll used the actual ballot language, while the Gravis Marketing poll used a summary.
The New York Times notes that the opposition to these initiatives has been well-funded only in Florida, thanks mainly to $5 million in support from Republican casino tycoon Sheldon Adelson. But before you conclude that money makes all the difference, note that the campaign for the Washington, D.C., initiative, which is ahead by a very large margin, has virtually none.
The Times lends credence to complaints by opponents of Oregon's Measure 91 that they have been silenced because critics objected when they tried to use taxpayer money to campaign against the initiative. At a recent anti-pot event in Keizer, the Times says, "no one even mentioned Measure 91," because "audience participants and organizers, many of them from government-funded nonprofit groups involved in drug treatment services, were afraid of violating laws that ban politicking with public money." Clatsop County District Attorney Joshua Marquis, a leading opponent of Measure 91, claims "they've done a pretty good job of shutting everybody up."
Please. If you address an audience of Oregon voters right before an election in which marijuana legalization is on the ballot, and you go on and on about the menace that marijuana poses to the youth of Oregon, you need not explicitly say "vote no on Measure 91" to get your message across. And if these anti-pot activists want to be freed from the shackles of self-censorship, all they have to do is spend their own money instead of using resources forcibly extracted from taxpayers. Evidently it's hard to find people who will voluntarily part with their hard-earned money in support of the prohibitionist cause. Marquis complains than the No on 91 folks have "no sugar daddy" like Adelson. And as the Times notes, "Opponents were, by their own admission, late in forming a united organization." It seems that 77 years of prohibition have fostered complacency as well as a tendency to rely on government support among the busybodies who insist on using force to stop people from getting high.