Human Rights Conference Attendee Risked Her Life to Watch Titanic
Sixth Annual Oslo Freedom Forum, a human rights conference actually organized by people who believe in human rights.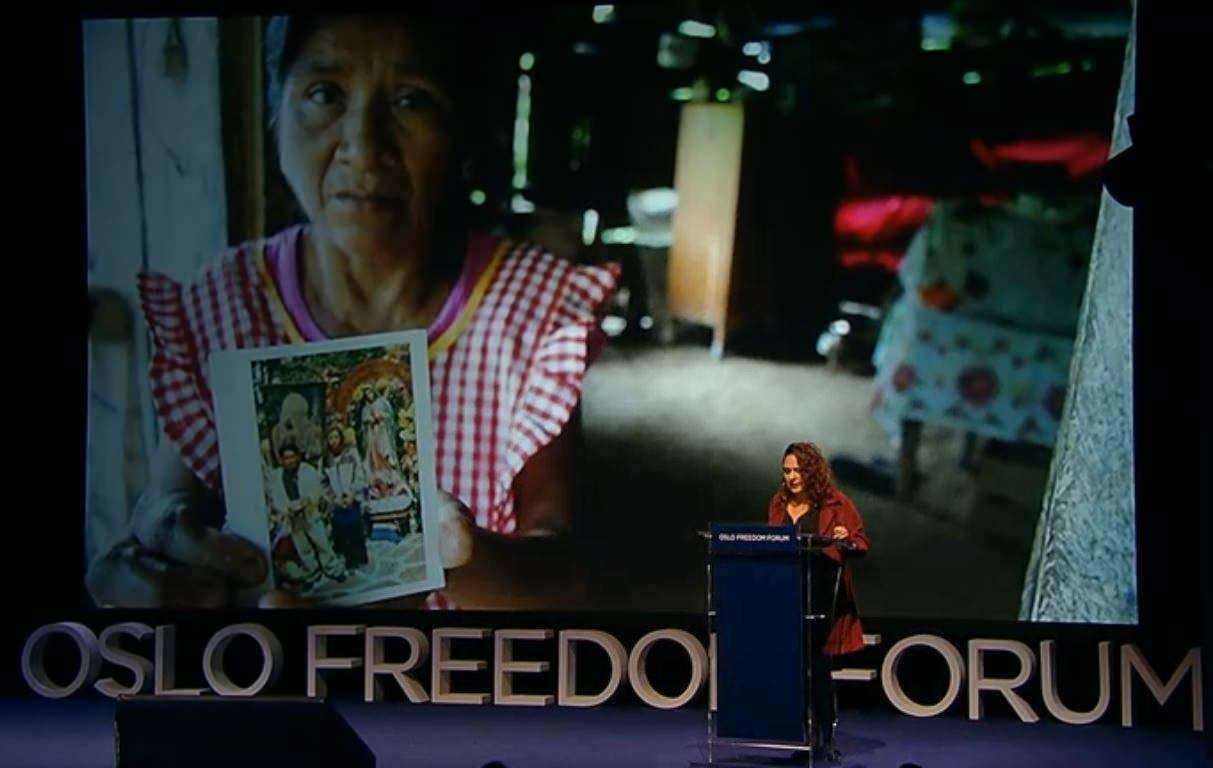 Familiar D.C. faces, such as former Reason editor Michael Moynihan, Tom Palmer from Atlas Foundation, and John Fund and Jay Nordlinger from National Review Online were meandering across Eidsvoll Square in front of the Norwegian Parliament around noon, squinting in the bright, low-hanging winter sun. They are in town for the sixth Oslo Freedom Forum, where human rights activists from across the globe get together to talk about how to defeat dictators.
This is the week where you will run into international notables like Gary Kasparov, Stephen Pinker, Jeffrey Wright, Bassem Youssef, Nico Sell, and a couple of Pussy Riot members meandering between venues around the Norwegian version of the Mall, which is between the Royal Palace and the Parliament. The fancy headliners are interesting enough, but some of the more compelling stories are found among the unfamiliar names on the program.
Teenager Yeonmi Park (@Yeonmi ParkNK) is among these. She is an expert on North Korea's black market. She escaped North Korea when she was 13 years old, after her father's illicit trade with China got the entire family banished to the North Korean version of Siberia. She got her first notion that life outside of North Korea was different when she watched the movie Titanic. She had already seen the mother of a childhood friend executed for watching Hollywood movies. However, the movie challenged most of the values she had been taught growing up, and the plot gave her the idea that there was a very different world outside the North Korean borders.
Another person you probably never heard about is Iyad El-Baghdadi (@iyad_elbahdadi), a Palestinian blogger who grew up in United Arab Emirates. The authorities called him in to a police interview in April, and he was promptly escorted to the airport and onto a plane to Kuala Lumpur where he has been stuck since. He still has no idea why, as he has never criticized the UAE government. However, his Twitter account is consistently ranked as one of the most important voices out of the Middle-East and he has satirized leaders targeted by the Arab Spring uprisings. His wife was seven months pregnant at the time and he just recently met his child. His expulsion from UAE has caused him to see the plight of paperless refugees and how they get stranded in prisons and airports for long periods of time.
Persian Marina Nemat might be more familiar, as she has two bestselling books and several awards to her name. She was part of the 1982 student protests for democracy in Iran and ended up being tortured and sold into sexual slavery by her prisoners. The human trafficking strategy that she sees groups like ISIS and Boko Haram apply now is not a new to her. Her experience is that this is standard operating procedure for the Iranian government.
The founder of Oslo Freedom Forum, the Venezuelan human rights activist Thor Halvorssen, said that the most urgent problem facing the world today is that about half of the world's population is living under dictatorship or in non-democratic societies. Most other human rights conferences are sponsored by anti-democratic nations at the UN. These are not forums where effective activists organized in peer-to-peer networks and civil society organizations are welcome and western democracies are not good at aiding these groups in their fight.
Those of you who want to follow the panels directly can tune into the live stream starting 3:45 a.m. EDT, or you can check into your Reason.com feed for updates and reports.