Should the Military Ban Smoking?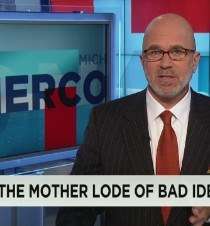 Yesterday, I appeared on CNN's Smerconish to discuss possible smoking bans in the military with the eponymous host. Take a look/listen by clicking above.
A longtime radio host, Michael Smerconish provides a welcome respite from most cable news yak shows, partly because his politics don't line up clearly along existing party lines. As important, I think, is that he engages in debate and discussion in a wide-open way. One of the ongoing frustrations in today's mediascape, I think, is that for all the hours devoted to politics, it almost always takes place within a very narrow band of allowable perspectives and it almost always is some version of Republican talking points versus Democratic ones, often by official representatives or diehards of each brand.
Because it gets away from all that, Smerconish is, along with Fox Business' The Independents (co-hosted by Reason's own Matt Welch of course), one of the very best shows on cable. It airs on Saturdays on CNN, at 9 A.M. and 6 P.M. ET.