'Fight Back' Against Government, Urges Journalist Targeted by Administration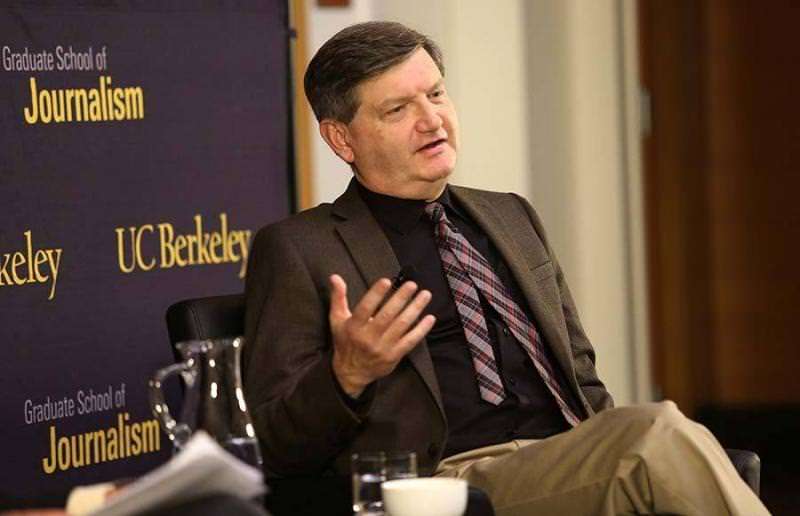 James Risen, a New York Times reporter, potentially faces jail time as he resists efforts by the Obama administration to squeeze him for his sources on a story about a failed CIA operation. Now that the Supreme Court has rejected his appeal, he's almost entirely at the mercy of the Department of Justice. Under such pressure, some reporters would fold, while others would just lawyer up. Risen is shooting back, publicly castigating the Obama administration in March as "the greatest enemy of press freedom that we have encountered in at least a generation." He also wants the press to continue going after government no matter the backlash from imperious officials.
"Journalists have no choice but to fight back because if they don't, they will become irrelevant," Risen told journalism students at Colby College in Maine just this past weekend as he received the Elijah Parish Lovejoy Award for journalism.
Some of the attendees seemed to want to let the guy in the White House and his top cronies off the hook, asking what role role Obama and Attorney General Eric Holder played in his persecution. Risen wasn't having any of it.
"I don't think any of this would be happening under the Obama administration if Obama didn't want to do it," Risen said. "I think Obama hates the press. I think he doesn't like the press and he hates leaks."
The Committee to Protect Journalists made the same point in a special report last year:
U.S. President Barack Obama came into office pledging open government, but he has fallen short of his promise. Journalists and transparency advocates say the White House curbs routine disclosure of information and deploys its own media to evade scrutiny by the press. Aggressive prosecution of leakers of classified information and broad electronic surveillance programs deter government sources from speaking to journalists.
That report quoted David E. Sanger of The New York Times saying, "This is the most closed, control freak administration I've ever covered."
Following up on the theme, the Associated Press (a target of Obama administration surveillance) last month published a list of "8 ways the Obama administration is blocking information." That article noted that "day-to-day intimidation of sources is chilling" and that the administration even tries to control the information that state and local officials can disclose. Surveillance technology and practices are among the "secrets" administration officials lean on local agencies to keep quiet.
Threatened by an administation that is actively hostile to transparency, public disclosure, and the independent press, James Risen's vow to go to jail to protect his sources' confidentiality is a hell of a good example to set for rising young journalists.
That said, hopefully the Obama administration wil have the decency to back off so he doesn't have to keep the promise.