Did Georgia Drug Warriors Commit a Crime When They Burned and Mutilated a Toddler?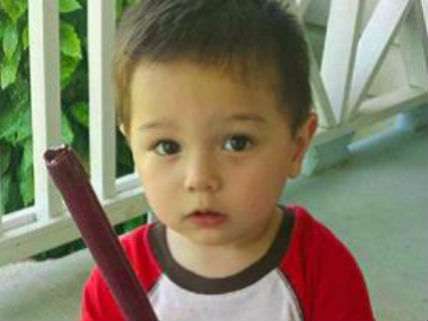 WSB-TV, the ABC station in Atlanta, reports that a grand jury will look into the Habersham County drug raid that gravely injured 19-month-old Bounkham "Bou Bou" Phonesavanh last May. Early on the morning of May 28, a SWAT team consisting of Habersham County sheriff's deputies and Cornelia police officers broke into the home where Bou Bou and his family were staying, looking for a meth dealer who no longer lived there. The raid turned up no drugs, no drug dealers, and no weapons, but it left Bou Bou critically wounded by a flashbang grenade that one of the cops tossed into his crib, burning his body, blowing a hole in his chest, and detaching his nose. Now Habersham County District Attorney Brian Rickman tells WSB that a grand jury will convene on September 29 to consider whether any of that amounted to a crime.
Without the fig leaf of the war on drugs, the whole operation was a series of crimes, including breaking and entering, burglary, kidnapping, and assault with a deadly weapon. If Bou Bou, who was hospitalized for a month following the raid, had not survived, his death, even if unintended, would have been considered a murder, because he was injured in the course of a felony. But because these home invaders had a no-knock search warrant, based on the word of an informant who claimed to have made a $50 meth purchase at the house earlier that night, none of these charges apply. Instead the grand jury presumably will consider whether the raid was carried out in a criminally negligent manner.
Under Georgia law, a person is guilty of "reckless conduct," a misdemeanor, if he "causes bodily harm to or endangers the bodily safety of another person by consciously disregarding a substantial and unjustifiable risk that his act or omission will cause harm or endanger the safety of the other person and the disregard constitutes a gross deviation from the standard of care which a reasonable person would exercise in the situation." Reckless conduct is an act of criminal negligence, which "implies, not only knowledge of probable consequences which may result from the use of a given instrumentality, but also willful or wanton disregard of the probable effects of such instrumentality upon others likely to be affected thereby." Another possibly relevant charge is cruelty to children in the second degree, a felony that occurs when a person "with criminal negligence causes a child under the age of 18 cruel or excessive physical or mental pain."
There is substantial evidence of negligence in this case. Habersham County Sheriff Joey Terrell and Cornelia Police Chief Rick Darby said their officers would not have used a flashbang if they knew children were living in the house they attacked. But their investigation of that possibility seems to have consisted entirely of asking their informant, who according to Terrell was at the house only briefly and did not go inside.
Even rudimentary surveillance should have discovered signs of children, who according to the Phonesavanhs' lawyer played with their father, Bounkham, in the front yard every day. Bou Bou's mother, Alecia Phonesavanh, told ABC News there were "family stickers" on the minivan parked "right near the door they kicked in," which contained four child seats, and "my son's old playpen was right outside because we were getting ready to leave" for Wisconsin. Anyone who entered the house would have seen toys and children's clothes. According to the ACLU, there were also toys in the front yard.
Beyond the question of whether children are present, there is always a high risk that police looking for a drug dealer will encounter innocent bystanders when they burst into a home in the middle of the night, pointing rifles and tossing flashbangs. Given that likelihood, one may reasonably wonder whether such paramilitary tactics are inherently negligent, especially when there is no real evidence that police are apt to encounter armed resistance.
The Phonesavanhs, who were staying with relatives in Georgia at the time of the raid because their house in Wisconsin had burned down, are now back in Wisconsin. Today, WSB reports, Bou Bou, now nearly 2, is undergoing his eighth surgery since the raid "to remove the stitches that were used to reattach his nose after the incident." The Phonesavanhs, who did not have insurance when Bou Bou was injured, are struggling to pay his medical bills, which at this point total more than $800,000. A few days after the raid, Terrell, the sheriff whose deputies participated in the raid, told the Fox station in Atlanta the county would cover those expenses. But last month the county decided such a payment would be illegal. Supporters of the family are seeking donations here.
The ACLU notes some of the raid's lingering psychological consequences:
The Phonesavanhs have three daughters who are now scared to go to bed at night. One night after the raid, their 8-year-old woke up in the middle of the night screaming, "No, don't kill him! You're hurting my brother! Don't kill him." Alecia and Bounkahm used to tell their kids that if they were ever in trouble, they should go to the police for help. "My three little girls are terrified of the police now. They don't want to go to sleep because they're afraid the cops will kill them or their family," Alecia said.
Even if the grand jury concludes that police recklessness in this case did not rise to the level of criminal negligence, the Phonesavanhs seem to have a strong case for a civil lawsuit—an outcome Habersham County has pretty much guaranteed by reneging on Terrell's promise of financial assistance.