F*ck Canada! Ir*ny is a Four-Letter Word at Colleges Up There!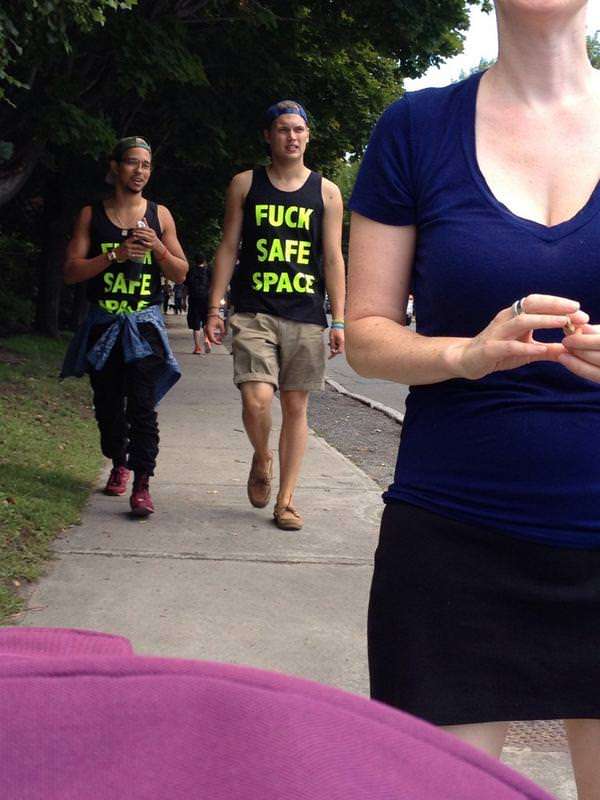 A couple of weeks ago, I posted about a particularly humorless suppression of speech as the University of Western Ontario, where a student newspaper got in trouble for publishing an obviously tongue-in-cheek piece titled, "So you want to date a teaching assistant?"
The damage by that particular #microaggression has barely had time to heal before the latest controversy flares up:
Carleton University in Ottawa says an investigation is underway after photos of students wearing shirts with "inappropriate wording" surfaced online on Sunday.

Images of students wearing the shirts were making the rounds over social media after an Ottawa lawyer tweeted a photo reportedly taken near the university's campus.
Note that "near the university's campus."
According to the Canadian Broadcasting Corporation (CBC), it's not even clear what "Safe Space" refers to:
The safe space policy at Carleton says students should feel safe from homophobia and "heterosexism" on campus.

Julie Lalonde, a Carleton graduate who helped create the sexual assault centre at Carleton, said the message sent is appalling.

"Safe space is a policy at Carleton that says all spaces and all events that are Carleton sanctioned should be anti-oppressive, which means they have to be free of hate speech, racism, misogyny, homophobia, all of those things," she said.

But some Carleton frosh leaders took to Twitter on Sunday to say the shirts weren't meant to be offensive, but the intention was to protest a university policy that prohibited student leaders from swearing during frosh week activities.
Is it really that difficult to stand against physical and verbal intimidation (at a college, no less) without flipping out over t-shirts?
The person responsible for taking the photo above and tweeting it doesn't think so. Even though Leslie Robertson, an attorney in Ottawa, tweeted that "there were many people, including women, wearing these shirts," she also says:
For sure #carleton students should be free to fucking swear but the claim that his shirt is only about a swearing policy is bogus
— Leslie Robertson (@GalldinRoberts) September 8, 2014
There are at least two questions here: First is the "meaning" of the shirt. Is it intended as a broader statement against anything more than a policy prohibting cursing (and if so, is that in itself a problem)? And second, should universities really be policing what students say or wear "off-campus"?
Two years ago, Reason interviewed the University of Pennsylvania's Alan Charles Kors, one of the co-founders of The Foundation for Individual Rights in Education (FIRE) and co-author of The Shadow University: The Betrayal of Liberty on America's Campuses. Take a look and see if you don't agree with Kors that suppressing speech is no way to increase freedom of expression at colleges.