California "Ghost Gun" Bill Would Effectively Ban 3D-Printed Guns, Homemade Weapons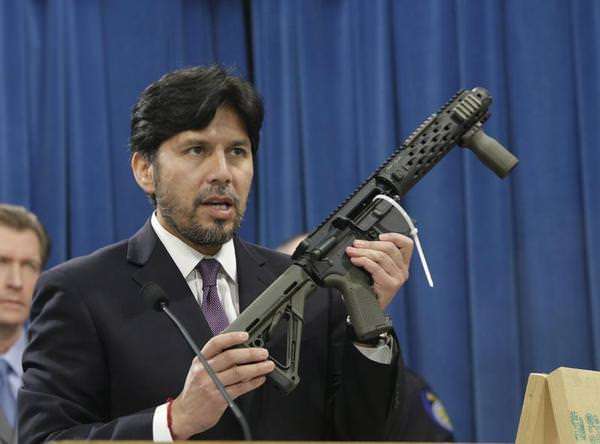 Guns.com reports that a new, highly restrictive piece of legislation, SB808, awaits only Gov. Jerry Brown's signature before becoming law in California:
The bill, championed famously by state Sen. Kevin de Leon, D-Los Angeles, in a January news conference in which he extolled the characteristics of "30 magazine clips" and "ghost guns," aims to largely outlaw 3D printed guns and place restrictions on guns made by home based builders. Introduced just eight months ago, the bill passed the state Senate on Aug. 29 by a 21-12 vote and navigated through the State Assembly by a closer 46-30 margin.

"Technological advancements require that we update our laws to meet new and growing public safety concerns to make sure dangerous individuals cannot manipulate technologies at the expense of public safety," said de Leon in a release last week.
Yeah, it probably will work almost as well as current gun laws do at keeping firearms out of the hands of criminals.
The law will require
a state Department of Justice Bureau of Firearms background check and authorization before assembling a firearm in the home of a state resident. Additionally, before this could be granted, the candidate would have to show proof that building the gun would not violate local city or county codes.

It would further require those who in the state that have already made their own gun after December of 1968 to obtain and engrave or affix a DOJ-issued serial number and prohibit the sale, transfer or inheritance of these guns.

In a final step, all guns made by unlicensed homebuilders would have to be serialized, have that serial number logged by the DOJ, and kept on record. Furthermore, homebuilders would have to pay a fee.

Noncompliance could result in up to a $1,000 fine and/or a year in prison.
Hat Tip: Declan McCullagh's Twitter feed.
Watch Reason TV's interview with Cody Wilson, 3D-gun evangelist and provocateur deluxe:
Read more about Wilson and Defense Distributed here.