Huey P. Newton Gun Club Pushes #BlackOpenCarry to Protest Police Violence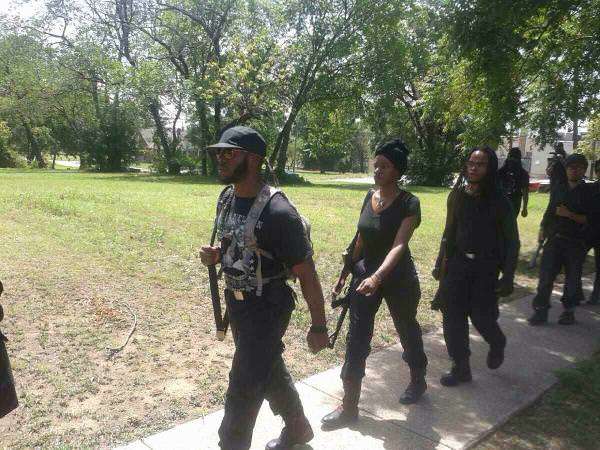 In Texas, blacks are protesting police violence in a particularly Southwestern way: By invoking their right to open carry. On Wednesday, more than 30 members of the newly-formed Huey P. Newton Gun Club gathered to march through South Dallas with rifles, shotguns, and AR-15s. The group eventually entered a restaurant with their weapons while Dallas police officers were inside eating lunch.
"The recent murders of unarmed black, brown, and whites across the United States of America has eradicated trust in the police," the gun club's website states.
Individuals across this nation have been stripped of due process, subjected to state-sponsored police terrorism, and continue to suffer the fate of being terminated extra-judicially.

In Dallas the police have murdered over 70 unarmed individuals, most of the black and brown men, over the last ten years. Excluding a recent incident where police testimony was contradicted by surveillance footage, there have been no indictments since 1973.

The people, who are gunned down and murdered by violent and militarized police forces, have formed the Huey P. Newton Gun Club, for the specifc purpose of self defense and community policing.
Note that the only Dallas cop indicted for killing an unarmed civilian was a case with surveillance footage available. More and more, we're seeing why dashcam and body cameras for cops are so crucial. Just yesterday, a 25-year-old man was gunned down by police in St. Louis. The cops said Kajieme Powell, who had just stolen two energy drinks from a convenience store and was now pacing out front talking to himself, was coming at them with a knife raised when they shot in self-defense. A cell-phone video released today shows otherwise. It shows two St. Louis officers barely stopping their car before they open fire on a man with his arms seemingly at his side.
"We demand the immediate end to police brutality, harassment, and murder of the people," says the Huey P. Newton Gun Club website. "We assert the right of the people, particularly those of color, to bear arms and protect themselves where local, state, and the federal government have historically failed to do so."
The hashtag #BlackOpenCarry has been lighting up Twitter tonight. Some photos, tweets, and video: