New Jersey Supreme Court: 'Violent, Profane, and Disturbing Rap Lyrics' Inadmissible in Attempted Murder Trial
In 2005 prosecutors in New Jersey pointed to the violent rap lyrics written by a criminal suspect as evidence of that man's "motive and intent" to commit murder and other misdeeds. During the trial, those lyrics—which had zero connection to the actual crimes at issue—were read to the jury, which ultimately voted to convict the man of attempted murder.
In an opinion issued on Monday, the New Jersey Supreme Court nullified that verdict, ordering a new trial on the grounds that "the violent, profane, and disturbing rap lyrics authored by defendant constituted highly prejudicial evidence against him that bore little or no probative value as to any motive or intent behind the attempted murder offense with which he was charged." Unless such material has "a direct connection to the specifics of the offense," the court ruled, prosecutors are forbidden from introducing it as evidence.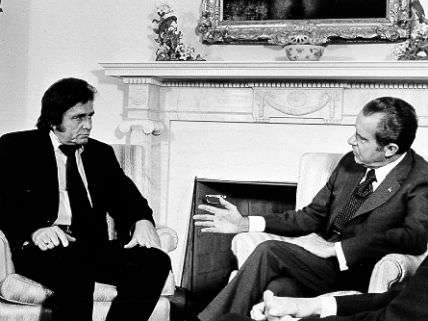 The New Jersey Supreme Court got it right. As the ACLU noted in an amicus brief it filed in the case, "that a rap artist wrote lyrics seemingly embracing a world of violence is no more reason to ascribe to him a motive and intent to commit violent acts" than it would be "to indict Johnny Cash for having 'shot a man in Reno just to watch him die.'"
The New Jersey Supreme Court's ruling in State v. Skinner is available here.