Despite Huge Increase in Marijuana Busts, Pot Smokers Seem Undeterred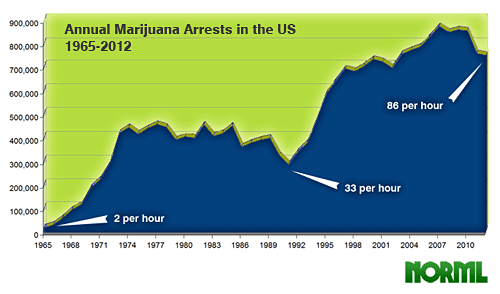 The total number of marijuana arrests in the United States, which rose dramatically from about 288,000 in 1991 to a peak of 873,000 in 2007, has declined since then, reaching 750,000 in 2012. But according to a new analysis by Jon Gettman, a former national director of NORML who is now a professor of criminal justice at Shenandoah University in Virginia, arrest rates have continued to rise in 16 states and the District of Columbia. Nationwide, the number of arrests per 100,000 residents more than doubled between 1991 and 2012. The overwhelming majority of those arrests (88 percent in 2012) involved simple possession, indicating that consumers have borne the brunt of this cannabis crackdown. Yet the huge increase in pot busts does not seem to have had much of a deterrent effect.
According to National Household Survey on Drug Abuse (NHSDA), the number of people who reported using marijuana in the previous year rose and fell through the 1990s as arrests steadily climbed. In the National Survey on Drug Use and Health, which began in 2002, that number was fairly flat until 2009, despite continued increases in arrests. It rose steadily from 2009 through 2012, the last year for which data are available. In the Monitoring the Future Study, annual prevalence of marijuana use by high school seniors rose from 24 percent in 1991 to 36 percent in 2012. This does not look like a drug policy that is working.
In 2012, Gettman found, the jurisdictions with the highest marijuana arrest rates were the District to Columbia (729 per 100,000 residents), New York (577), Louisiana (451), Illinois (447), and Nebraska (421). The national average was 239. Measured by the share of annual users arrested, Louisiana led the pack at 6.4 percent, followed closely by New York at 6 percent, then Maryland (5.8 percent), Nebraska (5.5 percent), and Wyoming (5.1 percent). The national average was 2.8 percent. The jurisdictions that saw the biggest average annual increases in their arrest rates between 2008 and 2012 were South Carolina (13.1 percent), D.C. (9.4 percent), South Dakota (8.3 percent), North Dakota (7.8 percent), and Utah (5.6 percent).
Those states, along with a dozen others, bucked the national trend: For the country as a whole, the marijuana arrest rate per 100,000 fell by an annual average of 3.8 percent between 2008 and 2012. The states with the biggest annual decreases were Massachusetts (29.1 percent), California (27.9 percent), Alabama (22.9 percent), Washington (18.7 percent), and Connecticut (18.7 percent). Gettman notes that "the reduction in California and Massachusetts is due to the replacement of criminal penalties for possession with civil penalties."
Gettman's report is full of interesting data and well worth a closer look. (So is his new website, RegulatingCannabis.com). "Over the last two decades," Gettman concludes, "marijuana arrests and marijuana arrest rates have doubled, and at great expense to both the public and the individuals arrested….Marijuana arrests have increased significantly, and in many states they continue to increase. The other important fact is that despite these arrests marijuana use has been increasing over the last decade….In light of their failure to curb the increase in marijuana use the costs and benefits of marijuana arrests, and who bears them, require greater study."