Obama Administration Choking Off Student Loans, Which Is Good News
For-profit schools get deserved flak, but the public universities lock kids into years of debt, too.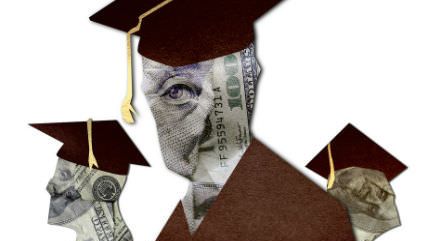 SACRAMENTO — Whenever educational issues are debated in the state Capitol, legislators operate from an unchallenged assumption: more government aid will lead to better opportunities for students. But the plight of a well-known Santa Ana-based private college system shows the reverse may often be true.
Corinthian Colleges, a for-profit company that owns Heald College and other career-oriented colleges, has announced that it is selling or closing its schools. This "swift crumbling," as the Bay Area News Group called it, is the result of the U.S. Department of Education's slashing of student aid to the colleges' 72,000 students.
The colleges have been controversial. California Attorney General Kamala Harris' office filed a complaint alleging that it "intentionally targeted low-income, vulnerable Californians through deceptive and false advertisements and aggressive marketing campaigns that misrepresented job placement rates and school programs."
That helped lead to federal action — a shut off of aid for three weeks unless the company provides information about student success rates. The Obama administration has softened its demand as officials figure out how to end Corinthian programs. California's legislature already banned new state aid to the schools for veterans.
And the attorney general's office this week complained the company is "failing to tell prospective students that the schools to which they apply will all be sold or closed." Corinthian executives have called Harris' latest allegations a publicity stunt.
The schools' defenders also allege elitism. Clearly, these schools aren't designed to compete with the University of California. "Career colleges do a better job of helping students graduate and enter rewarding careers than traditional, state-funded schools," argued one Heald official, in a Sacramento Bee column.
Nevertheless, there are plenty of allegations of high pressure sales techniques and overly expensive courses that offer few real world opportunities. Most critics focus on the profit motive, but the biggest problem may be the easy availability of government aid. The company cannot operate for very long once the spigot of federal dollars is turned off.
"Heald began in 1863 as a for-profit institution, and long before students turned to the federal government for student loans, it was formidable," wrote former Heald President Larry Barton in the San Francisco Chronicle. "To pay for tuition, most students worked full or part time or borrowed from their families."
Something changed. "As federal student loan program proliferated, especially in the 1970s, so too did the appetite of the private equity funds and private investors who saw broad opportunity by starting new 'colleges'," Barton added. Students needed to sign on the dotted line — and federal aid would flow toward the colleges.
State and federal officials can see the problem with some of these for-profit ventures (although many have fine reputations), but they don't see how this dynamic infects the entire higher education system.
A recent CNBC report pegs student loan debt at around $1.2 trillion nationwide — with those numbers increasing as students pay for "skyrocketing tuition" costs. It's inflationary. Most students take out loans to attend public and private universities, community colleges and non-profit schools, not these smaller for-profit ones.
Elite universities don't face allegations of high pressure sales tactics, but they, too, lock students into years of debt, and often offer degrees of questionable market value. And all types of schools are less rigorous in their spending when borrowed money keeps flowing, as news reports point to a nationwide spree by major universities of building luxury dormitories.
The Obama administration's approach of choking off the student aid dollars to Corinthian Colleges is sensible. But state and federal legislators need to learn a lesson that has a broad application beyond this one for-profit college system.