Washington's Pot Shops Open Tomorrow, Charging High Prices for Novelty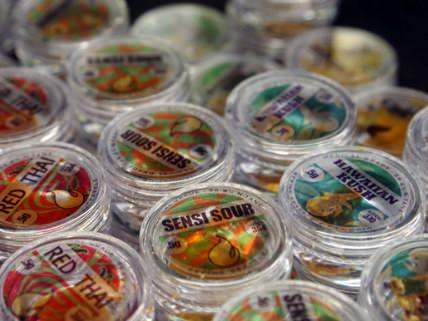 Early this morning the Washington State Liquor Control Board (LCB) notified about 20 license applicants that they have been approved to begin selling marijuana as early as tomorrow. At least a few pot shops plan to open their doors this week, including Cannabis City in Seattle, Kouchlock Productions in Spokane, Rainier on Pine in Tacoma, New Vansterdam in Vancouver, 2020 Solutions and Top Shelf Cannabis in Bellingham, Altitude in Prosser, and the Freedom Market in Kelso. But they won't have much to sell, since the LCB began licensing growers just a few months ago and has issued only 80 or so cultivation licenses so far, with more than 2,500 applications pending. As a result of the meager supply, the stores are expected to impose purchase limits below the one ounce that is legally allowed and charge around $25 per gram, more than twice the prices charged by medical marijuana dispensaries and black-market dealers in Washington.
Seattle Post-Intelligencer reporter Jake Ellison argues that "legal marijuana stores won't matter much in Seattle," the state's biggest and most cannabis-friendly city, which eventually is supposed to have 21 licensed pot shops but at first will have just one:
Except for tourists and the pot curious, who will each buy a few grams at most, the appeal of state-licensed recreational marijuana won't go much farther than novelty in Seattle. Especially under the current tax and regulatory structure pushing prices up…but not just because of that.

The strongest reason is cultural: Regular users already have a cornucopia of choices and law enforcement around here has spent years getting used to marijuana as a low-priority, creating in the Emerald City something akin to an open market for cannabis.

Consequently, it's easy to get.

"Oh, you mean the scary dude skulking in the alleyway?"

Not exactly.

Just Google "deliver marijuana Seattle" or pick up a copy of The Stranger and look at the back page… and you're on your way. Or, take the afternoon off and get a medical card. Then your options for delivery or in-store shopping are nearly limitless, with hundreds of MMJ storefronts throughout Seattle.
Those dispensaries, which operate as "collective gardens" with rotating memberships, will be officially noncompliant with Seattle zoning law as of January 1. But given the LCB's slow pace in setting up the new distribution system, it seems some sort of accommodation will be necessary. "Realistically," says Alison Holcomb, who ran the campaign to legalize marijuana in Washington, "we are going to be looking at a transition period. Seattle certainly isn't going to shut down 200 dispensaries before the end of 2014." This year the state legislature considered several bills that would have shut down the dispensaries, and it is expected to take up the issue again next year. But the assumption that state-licensed retailers will be up to the task of serving patients anytime soon is looking increasingly shaky.