Former Gov. Gary Johnson Goes Into the Marijuana Business
Where are they now?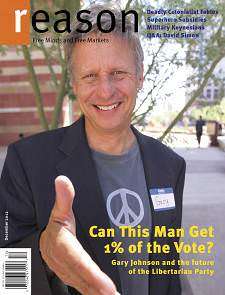 A former politician finds a more honorable profession:
A Nevada-based startup that plans on selling medical and recreational marijuana products named former New Mexico governor and U.S. Libertarian presidential candidate Gary Johnson as its CEO and president, the company announced Tuesday….

Johnson, who owned a construction company that helped build Intel Corp.'s Rio Rancho, New Mexico, plant before entering politics, said the company will make marijuana-based oils aimed at helping children with epilepsy. The two-term governor also said it will make cough drop-like products for recreational use.

"Couple of things hit you when you try the product. One is, wow, why would anybody smoke marijuana given this is an alternative?" Johnson said. "And then secondly, it's just very, very pleasant. I mean, very pleasant."