Don't You Dare Criticize Officers For Shooting Dogs, Whines SLC Top Cop
Maybe animals that can't speak for themselves evoke greater sympathy than men, women, and children--though not from the pompous cops that abuse them.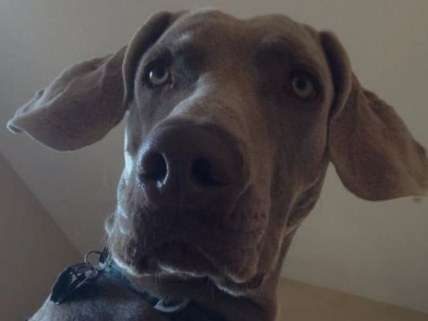 Perhaps feeling a bit besieged after dog owner Sean Kendall posted a video of his impassioned confrontation with Salt Lake City police after one of their fellow officers entered his yard and shot his dog, Geist, Police Chief Chris Burbank stepped in front of a camera—and acted pissy that anybody would dare criticize his officers.
"Evidence shows that the dog was extremely close, in fact within feet of the officer," he insisted, immediately after stating that he wouldn't insert himself into the review of the case.
Well, OK. Let's give him that one. After all, Officer Brett Olsen, the shooter in the incident, had barged into the dog's yard at the time, while searching for a missing child in the neighborhood. He hadn't sought permission, and he apparently made no effort to back out. But he was there.
Then Burbank went on to refer to Olsen as a "seasoned officer" and a "hero" of the Trolley Square mall shooting before getting pissy about the public's angry response to the shooting of Geist. He read infuriated letters suggesting that Olsen deserved the same as he'd inflicted on Geist, and then went on to berate the public at large.
"It is extremely disappointing. This police department has worked tirelessly to ensure that the process that exists within our city for people to protest, for people to bring forth issues, for people to address problems and concerns with the police department, that avenues exist that we can move together and resolve problems…
Individuals will be held accountable for their actions as they always are. Not held accountable to this ridiculousness."
He went on to demand, well, that people respect his officers' authoritah.
"I ask only one thing, and that is that this community continues to approach interactions with the police department in a respectful manner." 
Maybe this world just isn't good enough for you and your officers, Chief Burbank.
The chief's resentment at public criticism didn't seem to to take with those outraged by Geist's shooting. Yesterday, organized by Justice for Geist, somewhere between hundreds and thousands of protesters rallied outside the Salt Lake City Police Department to demand that Olsen be fired.
The Salt Lake City council also, rather gently, urged the police department to work with the Humane Society and consider less-lethal means of dealing with family pets. Even implied criticism of that sort toward the state's enforcers is rare from politicians.
Burbank did get one thing right when he marveled, "after 23 years in law enforcement, I haven't seen this sort of public outcry when certain human beings have lost their lives."
Militarized, aggressive and abusive policing is not a new thing, and innocent humans are often the victims, not dogs. But maybe animals that can't speak for themselves more easily evoke sympathy than men, women, and children.
Below, Sean Kendall confront police after learning of the shooting.