[UPDATE: UC Says It Ain't So] University of California System, Ignoring its Own State's Public Utility Commission, Sides with Taxi Cartels Against Convenience, Sense, and Rideshare Apps
[UPDATE: Despite the email linked below via Eugene Volokh saying otherwise, which triggered a series of news reports from the education media, some linked to below, the University of California system today issues a statement that in fact it does and will continue to reimburse for e-hail rides.
As Volokh writes, befuddled, "Why the UC distributed an e-mail to the contrary earlier this week is a mystery to me." And these services can't rest easy—the new statement does say that "We are, however, reviewing and evaluating issues revolving around the safety and security of our employees when they use such services. We are actively seeking ways to overcome potential liability and safety concerns and would like to work proactively with companies such as these to get everyone to a point of complete comfort with the risks involved."]
Original post follows:
As I reported at length last October, California was the first state to create a statewide regulatory structure to allow the use of smartphone apps that summon rides-for-hire; the most prominent such companies are Uber and Lyft.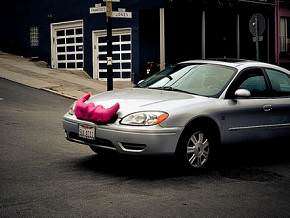 Despite the fact that the ride services, at least, are in fact fully legal and regulated in California, and amazingly convenient for users, the University of California system has announced that its employees cannot use them for any professionally required rides, at least not on their employers' dime. (The UC system has similarly disallowed reimbursement for using Airbnb for lodging.)
University of California employees will from now on have to hail regular cabs and book standard hotel rooms when traveling on official business, as the system's Office of Risk Services has decided to ban the use of peer-to-peer services such as Airbnb, Lyft and Uber.

Those and other service startups "should not be used because of concerns that these services are not fully regulated and do not protect users to the same extent as a commercially regulated business," according to an email sent out to the University of California at Los Angeles campus. "As the market matures and these businesses evolve, the University may reconsider whether reimbursement of travel costs provided by peer-to-peer or sharing businesses will be allowed."

The decision was made due to "insurance concerns," a spokeswoman for the university system said in an email.
Eugene Volokh, a UCLA professor, reproduced the letter announcing the policy at his blog at the Washington Post.
It is an incalculable—but large, I assure you—number of employee man-hours that will be wasted waiting for cabs in California by this policy. Taxpayers should be concerned.