In Post-Soviet World, Town Pisses on Lenin with Irreverent Statue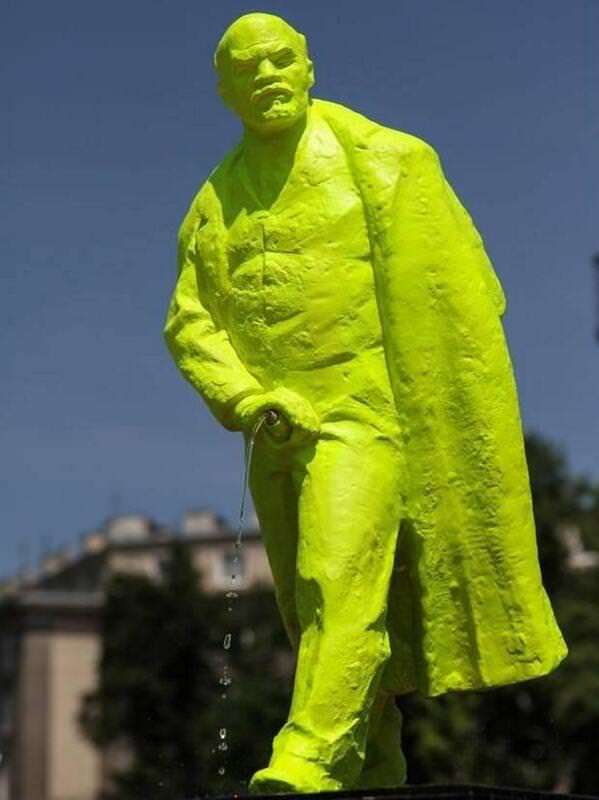 Mediaite's Tina Nguyen reports on a district in Krakow, Poland that is celebrating the death of communism with an irreverent, neon-green statue of Lenin entitled "Fountain of the Future."
There's a little bit of backstory to why this district is so happy that communism is over: Nowa Huta, an industrial community, was built by the Polish post-war government specifically to "combat the influence of what authorities deemed to be 'bourgeois' Krakow," according to the Independent. (The town was such a propaganda village that a popular song was written extolling its Socialist virtues, and was literally titled "This Song Is About Nowa Hute".) However, the plan backfired and Nowa Huta instead became a hotbed of dissent, with protestors attempting to blow up the bronze Lenin statue at least twice.

And now that Socialist Realism is dead, everyone in Nowa Hute wants to keep it that way. Artist Bartosz Szydlowski told the Telegraph that he wanted the world to see the town's sense of humor, and also wanted to stir debate over what should take the place of the statue.
How do irreverent American leftists remember Lenin, the architect of one of the most oppressive regimes in human history? The folks at Mother Jones used to sell ha-ha funny "Bowlshevik" bowling shirts featuring Lenin dishing out a strike. Because nothing is hipper than a guy who knew how to pull off Red Terror and worse like a real pro.