3 Drug Scares Undermined by New Survey Data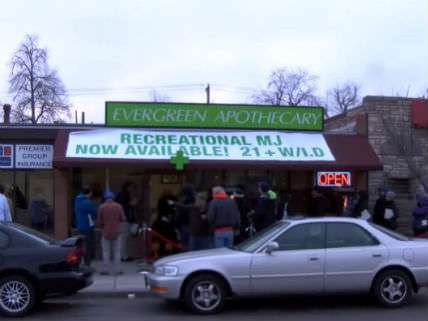 New data from the CDC's biennial National Youth Risk Behavior Survey contradict, or at least complicate, three drug-related narratives that have been sources of alarm in recent years:
1. Liberalization of marijuana laws "sends the wrong message" to teenagers, encouraging them to smoke pot. "Current" (past-month) marijuana use by high school students fell between 1995 and 2013, a period during which 21 states legalized marijuana for medical use and two of them legalized it for recreational use as well. Although the successful 2012 legalization campaigns in Colorado and Washington received a great deal of national attention, marijuana use by teenagers "did not change significantly" between 2011 and 2013.
2. The country is in the midst of a "heroin epidemic." If so, it is not reflected in the numbers from this survey, which indicate that the percentage of high school students who had tried heroin fell between 2012 and 2013. From 1999 through 2013 there was no significant trend either way. The National Survey on Drug Use and Health, which covers Americans 12 and older, did detect an increase in past-year use from 2011 to 2012 (the most recent year for which data are available), but it was not exactly explosive: The estimated number of past-month users rose from 281,000 to 335,000. And while that survey probably misses a substantial number of heavy users, even the highest estimates (based on indirect evidence) suggest that heroin addicts represent less than 0.5 percent of the population 12 and older.
3. E-cigarettes are a "gateway" to smoking for teenagers. The share of high school students who reported smoking cigarettes in the previous month fell by 43 percent between 1991 and 2013. That includes a drop from 18.1 percent in 2011 to 15.7 percent in 2013, despite an increase in e-cigarette experimentation during that period. The same study that measured an increase in e-cigarette use, the Youth Tobacco Survey, likewise found a continuing decline in smoking.