Ukraine: Civilians Chase Off Militants, Kittens Promote Peace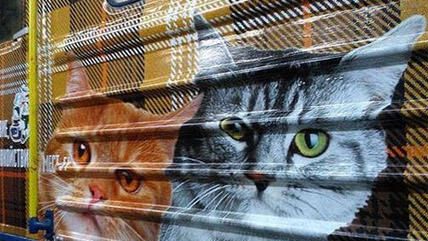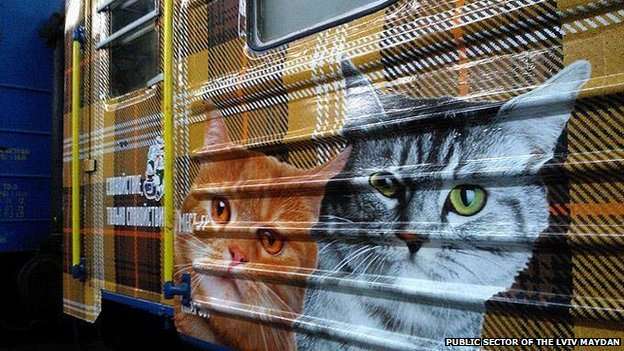 Thousands of Ukrainian civilian laborers came together in patrol groups and tore down blockades set up pro-Russian militants in the eastern region of Donetsk yesterday. At the same time, a train car adorned with images of cats set off from the western end of the country with a message of peace to the east.
Around 18,000 steelworkers and miners are taking action against the so-called "People's Republic of Donetsk." The New York Times highlights their small success in the city of Mariupol:
The workers, who were wearing only their protective clothing and hard hats, said they were "outside politics" and were just trying to establish order. Faced with waves of steelworkers joined by the police, the pro-Russian protesters melted away, along with signs of the self-declared Donetsk People's Republic and its representatives. Backhoes and dump trucks from the steelworkers' factory dismantled the barricades that separatists had erected.

It remains possible that the separatists could regroup and challenge the industrial workers, though few were to be found in and around Mariupol on Thursday, even in the public administration building they had been occupying.
The Associated Press reports seeing no separatists in the city this morning.
Many of the laborers work at plants owned by Ukraine's richest man, Rinat Akhmetov. He has been critical of the western-leaning interim leadership in Kiev, but recognizes the importance of keeping peace for the sake of his business. If these types of civilian patrols work, he intends to initiate them in other cities.
In the last week, much attention has turned to the standoff in Mariupol, the second largest city in Donetsk. Exact numbers are hard to come by as the opposing sides contradict each other, but estimates indicate that several dozen people have been injured or killed and a few have been kidnapped. The situation is grisly. One parliamentarian claimed that the separatists took the dead body of a brigade commander and cut off his ears and gouged out his eyes.
Throughout the crisis, Russian media has been pouring out anti-Ukrainian propaganda, such as filming a construction site and calling it a concentration camp, to persuade people that Ukraine is run by neo-Nazis.
On this front, Ukrainians are now fighting back with kindness. An activist group called the Public Sector of the Lviv Maidan plastered pictures of cats on the outside of a train car that yesterday began a journey to Odessa, where violent clashes between pro-Ukrainian and pro-Russian protesters led to the death of 48 people.
Public Sector states on its Facebook page that it hopes to initiate dialogue among the politically polarized regions of Ukraine and restore the "long forgotten feeling of confidence tomorrow." As tokens of good will, they are bringing donations, such as children's diapers, and medical supplies, to the battle-scarred city.
Read more Reason coverage of Ukraine here.