Cop Arrests Man For Complaining About Speeding Without a Siren—Caught on Video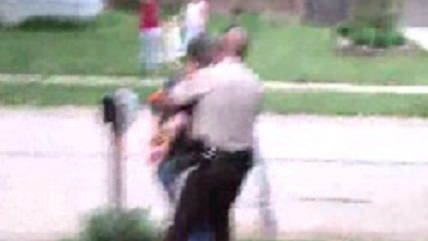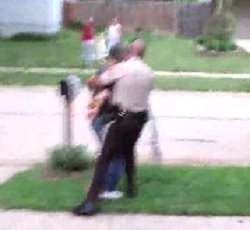 Cops in St. Louis County, Missouri, arrested a man apparently for complaining about the speed they were driving in the subdivsion—50 to 60 miles per hour according to one witness and without his siren on according to two—in an incident caught on video. The St. Louis Post-Dispatch reports:
[James] Schrader said Tuesday that he has health conditions and the officer roughed him up. "He had no business touching me," said Schrader, who was booked on suspicion of interfering with a police officer in performance of his duty.

After he was handcuffed, Schrader was complaining of a health condition, so the officer took him directly to a hospital after the arrest. Schrader said he was concerned for his safety during that ride because the officer was texting while driving to the hospital and driving recklessly.
Police say they were called to the area by paramedics for a "suspected overdose." Of that suspected overdose, police told the Post-Dispatch only that no one died. A neighbor said he called the police on the officer who made the arrest as soon as he got out of his car, saying he had an "attitude."
Video of the incident via the Post-Dispatch, below:
h/t Mark Sletten