Ukraine: Separatists Declare Victory in Rigged Vote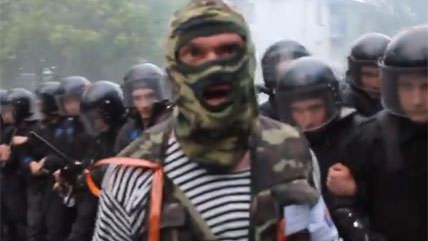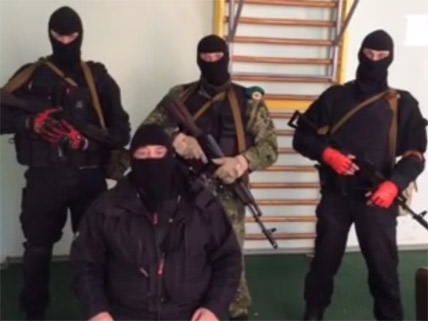 The self-proclaimed leaders of the self-declared People's Republics of Donetsk and Luhansk have announced themselves victorious in referendums to secede from Ukraine. The United States, the Ukrainian central government, among many others say the vote has the legal weight and legitimacy of a Burger King paper crown.
Separatists last night tallied that Donetsk had 89 percent voting in favor of secession. This morning, Luhansk insurgents claimed 96 percent in favor. Both regions reported that voter turnout was about 75 percent.
This contrasts with the most recent nationwide Pew poll, which showed that a 70 percent majority of easterners want Ukraine to remain united. The Wall Street Journal reported that "one Donetsk electoral official, Mikhail Samolenko, said Sunday there were no real safeguards to keep people from voting several times. But that didn't matter, he said, 'because everyone is voting yes' for independence." A Daily Beast reporter on the ground described bumps in the road like "thuggish intimidation, the abductions and murder of opponents, multiple voting, pre-filled ballot papers, adding names to an incomplete electoral roll and allowing anyone who turned up at a polling station with a Ukrainian passport in hand to cast a ballot." CNN noted similar issues.
The State Department anticipated that the separatists' vote would "violate international law and the territorial integrity of Ukraine" and said that "the United States will not recognize the results of these illegal referenda."
Ukraine's interim president called the vote a "farce" that had far lower turnout than reported and "will not have any legal consequences except for the prosecution of its organizers."
Andrey Zubov, a prominent Russian historian and political scientist, stated that "from the legal point of view, these referendums mean absolutely nothing. There is no doubt that they were falsified." France, Great Britain, and Poland have also condemned the vote as fraudulent.
The persistent question with the violence-plagued Ukraine is, what happens next?
Despite its tough rhetoric, the Ukrainian government will participate in a "round table" discussion with "civil groups" this Wendesday, according to Reuters.
Although local militant leader Denis Pushilin has previously disavowed any connection to or interest in Moscow, he did a 180 today. "We ask the Russian Federation to consider the absorption of the Donetsk People's Republic into the Russian Federation," Pushilin said. He added that "it is necessary to form state bodies and military authorities as soon as possible" and that voting in Ukraine's May 25 presidential election will be prohibited in the breakaway regions.
The Russian government said it "respects the expression of will of the population of Donetsk and Luhansk regions," but has yet to act on that.
The European Union will "impose sanctions impose sanctions against 13 additional individuals and two companies," according to Radio Free Europe, "the first time the E.U. has targeted companies." So far, the success of E.U. sanctions against Russia has been questionable.
The State Department, which has criticized Russian President Vladimir Putin for not removing troops from the Ukrainian border as he claimed to last week, is sending Under Secretary Richard Stengel today to help prepare for the upcoming presidential election.