Washington's First State-Licensed Pot Dealer May Share a Building With Its First State-Licensed Pot Grower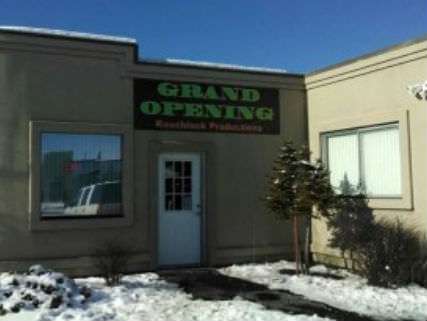 It looks like the first state-licensed retailer to begin selling marijuana in Washington may operate out of the same building as the first state-licensed grower. Scott O'Neil, who placed eighth in the lottery for eight retail licenses in Spokane last week, currently manages two medical marijuana dispensaries in that city owned by Sean Green, who received Washington's first cannabis cultivation license in March. O'Neil plans to convert one of those dispensaries, located at 1919 East Francis Avenue, into a recreational store as soon as he receives a license. He has signed a contract with Green to buy marijuana from his first recreational crop, which Green is growing in a separate suite in the same building and expects to harvest this month. "Scott should be the first one open," Green says, "since he will have the first product."
O'Neil's license is not a done deal until he clears a background check, submits an operating plan that wins approval from the Washington State Liquor Control Board (LCB), and passes an inspection. The LCB, which plans to "begin issuing retail licenses no later than the first week of July," told O'Neil its review of his application should begin within a week or two. "It's basically just jumping through the hoops: crossing the Ts and dotting the Is," O'Neil says. "The building is good to go."
To comply with state regulations, O'Neil has to remove the medical marijuana products currently on the dispensary's shelves. "We can't use any of the products we have," he says. "We have to get those products off the shelf before the inspection." At the same time, the recreational marijuana O'Neil plans to sell will come from medical marijuana plants repurposed by Green with the LCB's approval. O'Neil says the new outlet will continue to operate under Green's brand, Kouchlock Productions, although "there's a legal separation" between O'Neil's business and Green's. Green says he eventually aims to have 17 retail franchises under the Kouchlock name in Washington and 78 nationwide.
Although O'Neil, an old friend of Green's, already has some of his inventory lined up, he says "there definitely is going to be a shortage of product" when the first stores open. So far the LCB, which received more than 2,800 applications from would-be marijuana growers, has issued just 25 cultivation licenses. "There will be a high demand for the product and only a handful of people growing it," O'Neil says. "It's going to take at least a year to sort it out, get everybody up and running. A lot of people are doing outdoor. That's a one-harvest kind of deal, so it's going to take a lot of time."