Supreme Court Hears Arguments in Suit Pitting Beverage Giants
How much pomegranate and blueberry must appear in "Pomegranate Blueberry" juice for the name not to be deceptive?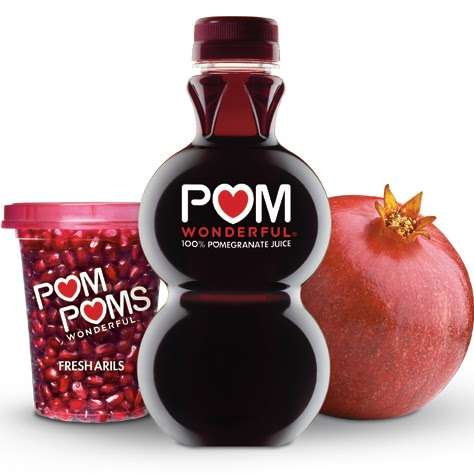 This week the Supreme Court heard oral arguments in POM Wonderful v. Coca-Cola, a deceptive-labeling case that pits two of America's beverage giants against one another.
The case centers on Minute Maid Pomegranate Blueberry juice, made by Coke, which contains only trace amounts of pomegranate (0.3%) and blueberry (0.2%) juices.
"POM filed suit against Coca-Cola contending that Coca-Cola's labeling of the 'Pomegranate Blueberry' product is so misleading that it violates the Lanham Act," writes SCOTUSblog contributor Ronald Mann, in a good summary of the case. "[T]his harms POM because POM advertises and sells products that actually contain substantial amounts of pomegranate juice."
The case, the latest in a series of food law cases to reach the Court in recent years, has important implications for the future of America's food labels.
The issue in the case is whether POM can sue Coke under the federal Lanham Act "challenging a product label regulated" by the FDA. Lower courts had ruled POM could not sue Coke under the Lanham Act because FDA regulations already apply to—and allow—such labeling.
It's important to note here that—unlike the USDA—the FDA doesn't pre-approve food labels. Also, the agency has its own enforcement mechanisms in place in the event it deems any food to be misbranded.
The Lanham Act, meanwhile, allows suits in cases of certain conflicts between business competitors.
That overlap can create a situation in which the FDA thinks a label is perfectly fine, but a court can decide just the opposite. That's exactly what POM hopes will happen here.
There's been growing acknowledgement in legal circles that Lanham Act claims can conflict with FDA regulations.
These conflicts—if allowed to proceed—could prove costly for businesses.
Wiley Rein, a large law firm that filed an amicus brief in the case, cautions that these sorts of food-labeling lawsuits under the Lanham Act would create "overlapping layers of potentially inconsistent regulation."
"If Pom wins, food labels could come under increasing legal scrutiny, and it's possible many of them won't fare well," writes Businessweek's Susan Berfield.
Most reports this week, citing oral arguments, paint the case as a slam dunk for POM.
"Coca-Cola didn't get much love from the Supreme Court on Monday," reads USA Today's lede.
"Legal Experts Expect Supreme Court Will Rule in Favor of Pom," predicts an Ad Age headline.
Many of these reports focus on the Justices' references to a need to protect consumers against deceptive food marketing.
"I think it's relevant for us to ask whether people are cheated in buying the product," Justice Anthony Kennedy said during oral arguments. "Because Coca-Cola's position is to say even if they are, there's nothing we can do about it."
Other comments from the bench were no more encouraging for Coke.
POM has also played up the consumer-protection angle.
"The only point of including these two juices is so Coca-Cola can use a name that has the obvious purpose to mislead consumers about what they are buying," reported Ad Age, quoting an unnamed spokeswoman for POM.
All this talk of consumer protection appears to have been unexpected.
While Mann's SCOTUSblog preview of the case last week used the word "consumer" just once, his summary of this week's oral arguments used the term "consumer" eleven times—including several times in quoting various Court Justices.
Despite the Court's repeated references to the need to protect consumers, those mentions ultimately might not matter.
While I'm no expert on the Lanham Act, prior scholarship by those who are tells me that while the Justices may feel consumers have been duped by the Minute Maid label, that fact should be irrelevant to determining the outcome of the case.
Why? Because the purpose of the Lanham Act is to protect businesses—not consumers—from unfair competition.
An American Bar Association publication on the Lanham Act states it bluntly: "The Lanham Act Protects Competitors, Not Consumers." The 2011 report goes on to clarify that "courts have observed that the Lanham Act is not a 'consumer protection act'; instead, the Act focuses solely on competition-related injuries."
That doesn't mean that a victory for POM under the Lanham Act is unlikely. It's just that the signal here is whether Coke's label statements unfairly harmed POM, while the noise from oral arguments—whether Coke's label statements unfairly harmed consumers—is not directly at issue in the case. And that means the "consumer" angle the media has latched onto might not be the right unit of analysis for predicting the outcome of the case.
What if POM loses, as it did in the lower courts?
Coke attorney Kathleen Sullivan argued before the Court, reports SCOTUSblog's Mann, that "the appropriate remedy for consumers, rather than a suit under the Lanham Act, was to go to the FDA."
While a Court ruling in favor of POM could open the legal floodgates to similar suits between competitors, the ruling that Sullivan urges—leaving labeling claims like those on the Minute Maid bottle to the FDA—would simply empower FDA bureaucrats. I'm skeptical of that option or—indeed—of any outcome that might strengthen the regulatory authority of the FDA.
It's easy enough to picture the agency wasting millions of dollars to determine just how much pomegranate has to be in "pomegranate" juice. That sort of regulating has already resulted in the creation of arcane, rigid, and unnecessary FDA standards of identity for foods, including ice cream and a host of other "frozen desserts."
Do we really want the FDA deciding how much blueberry must appear in a "blueberry muffin"? Of course not.
So what, if any, are the alternatives?
"In my ideal world, the FDA would stick to necessary work and consumers would be the ultimate arbiter of the legitimacy of marketing claims," said Jeff Stier, a lawyer and senior fellow with the National Center for Public Policy Research, in an email to me earlier this week. "In this world, Coca Cola wouldn't have to resort to silly defenses, the company would probably not have made the deceptive claims in the first place."
Stier's assessment rings true.
As I've written previously, "the federal government should '[o]pen up all food labels to any and all statements that aren't demonstrably false.'"
Disputes like the one in the case of POM and Coke should be hammered out first in the marketplace. Courts should be a last resort—they're no good, either, at answering the blueberry muffin question—followed at rather infinite distance by FDA regulators. While I'll temper my optimism, I hope the Supreme Court sees the case that way.