Police Union Wants To Know Why Perp 'Forced' Cop To Pummel Him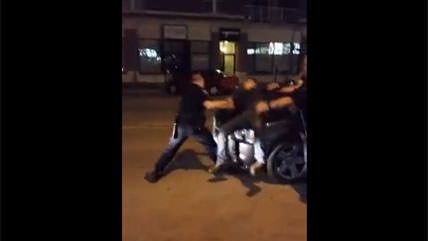 Earlier this week, a video spread across social media showing Green Bay Police Officer Derek Wicklund beating a man named Joshua Wenzel, 29, outside a bar. While the Green Bay Police Department is investigating, Wicklund's police union has come to the officer's defense and is demanding an answer to the real issue: Why did Wenzel make Wicklund punch him in the face repeatedly?
The video captures Wenzel asking officers why they're arresting another bar patron. Wicklund pushes Wenzel, and Wenzel yells "Fuck you!" a few times. Wicklund then charges at the man, grabs him by the collar, and slams him onto the hood of a police cruiser. Instead of ending the altercation then and there by handcuffing Wenzel, Wicklund throws him to the asphalt and punches him in the face a few times.
Besides the bloody nose, the officer gave Wenzel a ticket for disorderly conduct and resisting arrest, according to the Green Bay Press Gazzette.
"We haven't had, per se, a formal complaint filed, but based on the information we received we have decided to start our own investigation," Green Bay Police Department Capt. Bill Galvin said. "We're going to be looking at everything that took place before, during, and after that incident."
The Green Bay Professional Police Association doesn't have time to wait around for some investigation to decide who was right and wrong. No sir, they knew who was to blame for this mess and they set the record straight with a press release on Wednesday.
First of all, the police union assures, this was a "justifiable, legal, and lawful arrest." No need for further explanation.
Second, the media is spreading "propaganda" against Wicklund by showing the video. Shame on the media.
Third, the union doesn't understand why people are being so judgmental toward the cop caught on camera charitably feeding some guy a couple knuckle sandwiches. Why don't we focus on the selfish bum hogging all those sandwiches?
Why isn't anybody asking, "What did the man do to force Officer Wicklund to use force?" "What law did the man break?" "What was his demeanor?" "What was his condition?" "Did the man put himself in this unfortunate situation, by refusing to follow simple directions?" All of these questions, and many others, must be answered BEFORE judgment is passed.
And finally, the cold, dead lens of a camera cannot understand the raw emotion and tingling Spidey Senses of a cop:
Cameras do not capture what an officer was thinking at the moment. Cameras do not capture what an officer's perception of a threat is at the moment. Cameras do not capture tactile feeling or what officers were physically feeling at the time, such as human aggression and tension.
Well, whatever tactile, physical feelings the camera didn't catch, Wenzel's face did.