Bans on Sharing Food With Homeless Persist
It will take a concerted effort by advocates for the homeless to pressure cities to repeal these inane, mean-spirited, and un-American laws.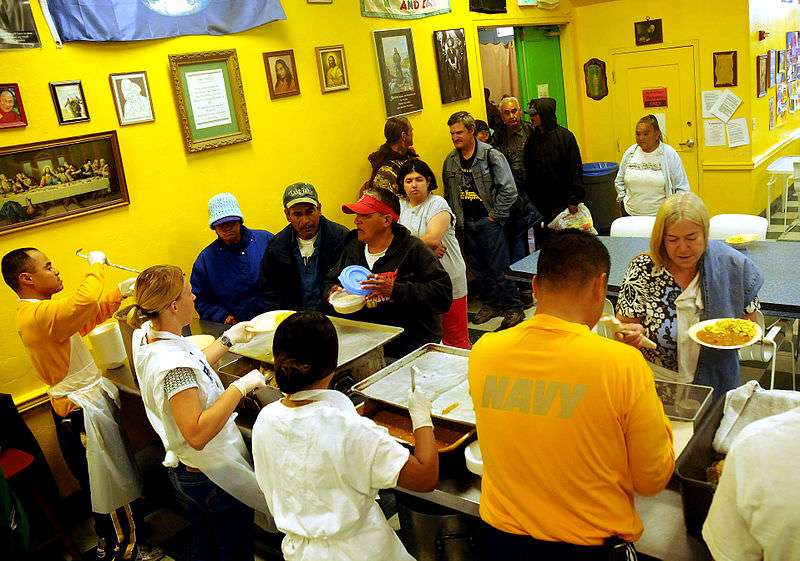 With all the restrictions on selling and marketing food, it's easy to forget that even sharing food is sometimes still a crime. Despite my own stated optimism last year, it appears that bans on sharing food with the homeless and less fortunate won't be going away any time soon.
Last week, Scott Keyes, a senior reporter with the progressive news site ThinkProgress, reported on the idiotic outcome of one of the latest of such bans.
In that case, the city of Birmingham, Ala. has barred a local pastor from sharing food with the homeless from a church-owned vehicle because he doesn't have… a food truck permit.
"Wood was stopped from handing out food by local police because he was in violation of a new city ordinance, passed in December, that regulates food trucks," writes Keyes. "The new regulation requires food trucks to get a permit, which can cost as much as $500."
Just like those on the left, conservative critics were aghast.
This issue certainly cuts across the normal left-right divide.
"Serving the needy[] is something we should reward, not criminalize," Keyes told me by email this week. "And serving the poor in a manner and location that is convenient for many homeless people is especially laudable. Making it more difficult to feed the hungry ignores the fact that poor people exist, and they get hungry like everyone else."
Besides being cruel and only exacerbating problems of hunger, these bans are all unconstitutional. As I wrote in a 2012 column, "the U.S. Constitution guarantees the right to assemble peaceably for any reason."
Lawsuits challenging these ridiculous bans continue.
Just this week, a judge in Albuquerque, N.M. threw out criminal charges against a man who shared food with homeless people in the city, and also awarded the man thousands of dollars in damages.
"The officers were acting in good faith to ensure that the food code was being enforced," claimed the city attorney, reports KRQE. Luckily the judge saw things differently.
As I noted in my column last year, a federal lawsuit by the ACLU of Pennsylvania against the city of Philadelphia forced city officials there to back down.
A lawsuit challenging a Houston ban on sharing food with the homeless was withdrawn last year after the judge in the case recused himself.
Meanwhile, Chicago and Seattle were forced to pull back bans of their own thanks to pressure from advocates.
While the growing national backlash may be a recent phenomenon, many of these local ordinances have been in place for years. A 2007 report by the National Law Center on Homelessness & Poverty and the National Coalition for the Homeless looked at similar bans in twenty municipalities around the country—including ten alone in Florida. Other cities listed in the report included Atlanta, Baltimore, Dallas, Denver, San Francisco, and Santa Monica. The report noted that three cities—Las Vegas, Wilmington, NC, and Orlando—had passed laws within the previous 18 months.
Sadly, outrage over these bans hasn't been enough to stop even more cities from considering and even passing new ordinances.
At a time when more than fifty cities have such bans in place, reports MSNBC, cities like Los Angeles are considering bans of their own. The city of Hayward, just outside San Francisco, passed its own ban last year.
Until more courts act to declare these bans unconstitutional, it will take a concerted effort by advocates for the homeless, and supporters on the left and right, to pressure cities to repeal these inane, mean-spirited, and un-American laws.