Shikha Dalmia on Why India Might Elect a Sham Free Marketer Hindu Extremist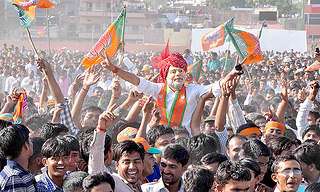 Narendra Modi, a Hindu nationalist with a severe case of authoritarianism, has taken a hefty lead in India's five-week-long elections by vowing not to let India's messy democracy stand in the way of economic liberalization to generate growth and jobs.
But Modi is a sham free marketer who has offered no clear policy agenda for economic reforms, notes Reason Foundation Senior Analyst Shikha Dalmia. But if he has still earned a cult following, it is by forging a rhetoric that gives voice to the soaring economic aspirations of Indians. This, she notes, is in stark contrast to the ruling Congress Party, which has been controlled by the Nehru dynasty since its inception. It has taken inspiration from the National Advisory Council that Sonia Gandhi, the Congress Party head and the Italian widow of former Prime Minister Rajiv Gandhi, has stacked with like-minded NGO activists (essentially community organizers) and leftist intellectuals. Most of them oppose India's turn to "neoliberalism" and privatization and believe that the old recipe of "social spending" and industry mandates is the answer to poverty.