Printed Bong Spells the End for the War on Drug Paraphernalia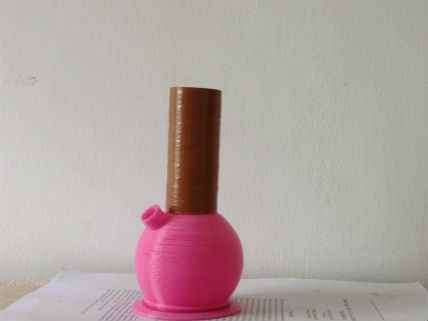 Several years ago in Reason, I considered the motivation for the war on marijuana paraphernalia. Mary Beth Buchanan, at the time the U.S. attorney for western Pennsylvania, explained it to me this way: "By enforcing the drug paraphernalia laws, we will…eliminate the demand for illegal substances by eliminating those products that are used to ingest and inhale illegal substances."
That goal seemed excessively ambitious to me, since even if the government somehow managed to stamp out the drug paraphernalia market, there would be plenty of do-it-yourself alternatives, several of which I outlined in a sidebar. I originally proposed including a fold-up pipe, rolling papers, or some other sample of actual drug pharapernalia in that issue of the magazine, a plan that foundered on concerns both practical and legal. But the ultimate refutation of Mary Beth Buchanan's argument, according to an account posted today at Inside 3DP, was delivered by an Israeli named Ben who tinkered with his 3D printer until it produced a plastic bong superior to the locally available alternatives:
Ben likes his marijuana but finds it difficult to find decent and reasonably priced bongs in Israel, where he lives.

Instead of paying for overpriced and poorly designed bongs, Ben decided to make his own. Ben's other specialty, or expertise, is 3D printing, and after building his Rostock 3D printer (RepRap project), he decided to start experimenting will all kinds of prototypes—one of them the now-famous bong.

The idea came came to life after a fun night out. Ben and his merry group of friends were chatting about 3D printing and its potential when someone suggested that Ben should print a bong. After initially laughing at the idea, Ben went to his laptop and started browsing for bong models. Eventually he found an STL file of a bong on Thingiverse, Makerbot's community for sharing and making 3D printed things. The rest is history.
Give it up, Mary Beth.