Dianne Feinstein Says Stoned Drivers Ruin Marijuana Legalization for Everyone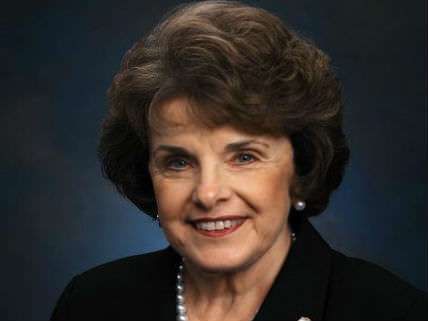 Yesterday Sen. Dianne Feinstein (D-Calif.) told the Associated Press she opposes marijuana legalization in her state partly because she worries about stoned drivers. "The risk of people using marijuana and driving is very substantial," she said. A.P. helped Feinstein make her case by citing "a possible example":
The California Highway Patrol is investigating a fatal weekend collision in Santa Rosa as being related to marijuana use. A woman and her daughter-in-law were killed when a Toyota Camry in which they were riding was rear-ended by a pickup truck. A preliminary CHP investigation determined that the 30-year-old man driving the pickup was impaired by marijuana and reading a text message on his cellphone at the time of the collisioin.
If this case is evidence in favor of marijuana prohibition, it is also evidence in favor of cellphone prohibition. By the same token, the fact that people die in alcohol-related crashes is evidence in favor of alcohol prohibition. In fact, since alcohol impairs driving ability more dramatically than marijuana does, legalizing pot might actually reduce traffic fatalities, to the extent that more pot smoking is accompanied by less drinking. There is evidence of such an effect in states that have legalized marijuana for medical use. States like California, where traffic fatalities fell by 30 percent between 1996, when voters approved medical marijuana, and 2011. Even when you control for the nationwide decline during that period, adoption of medical marijuana laws is associated with a drop in fatal crashes, as opposed to the increase feared by Feinstein. The senator does not seem to have noticed that her own state, where the doctor's recommendations that allow medical use are notoriously easy to obtain, has been testing her hypothesis for almost two decades.
Feinstein offered another reason for opposing marijuana legalization:
She said serving on the California Women's Board of Terms and Parole during the 1960s allowed her to see how marijuana, in her view, led to bigger problems for many female inmates.

"I saw a lot of where people began with marijuana and went on to hard drugs," Feinstein said.
The "gateway drug" theory espoused by Feinstein is at least 63 years old, and it is no more credible today than when Federal Bureau of Narcotics Commissioner Harry Anslinger was citing it as a reason to fear marijuana. In addition to the conceptual problems with Feinstein's theory, you may have noticed a weakness in her research methods. When you draw your sample of cannabis consumers from a population of prisoners, it is hardly surprising if you find that cannabis consumption is associated with bad outcomes. Such as going to prison. If Feinstein wants to draw a causal link between smoking pot and "bigger problems," she will have to do better than that.
Or maybe she won't. It all depends on whether we are past the period when pot prohibitionists could get by with unsubstantiated fears and anecdotes from the 1960s. Polling data suggest we might be.