Cellphone Justice and the Killing of Kelly Thomas
Fullerton cops go free after beating an innocent man to death.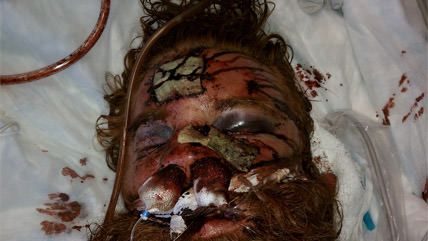 On January 14, 2014, Manuel Ramos and Jay Cicinelli, two former police officers in Fullerton, California, were acquitted of manslaughter and second-degree murder charges in the death of Kelly Thomas, a 37-year-old schizophrenic drifter. The two cops brutally beat Thomas at a municipal bus station on July 5, 2011. He died in the hospital five days later, after falling into a coma.
The case drew national attention, and the verdict had led to widespread outrage. But the trial-the first time any police officer has been brought up on murder charges in the history of Orange County-never would have happened if it weren't for a relatively recent innovation: cellphone cameras. A decade ago, Ramos and Cicinelli would probably never have been brought up on charges, and there would be nothing deterring them from committing similar acts in the future, but video evidence from a bystander's phone and a father's snapshot changed the equation.
On the evening of July 5, 2011, the Fullerton Police Department received a call that someone was trying to break into cars at the town bus depot. Ramos and another officer arrived on the scene and encountered Thomas, a mentally ill local who Ramos had met before. (Thomas wasn't breaking into any vehicles.) When Thomas didn't obey Ramos' commands to put his hands on his knees, Ramos started swinging his baton at his legs. Soon six officers, including Cicinelli, were on the scene, crushing and pounding the unarmed man. Cicinelli later recounted that he hit Thomas' face 20 times with a Taser.
The blurry video shows Thomas pleading with the officers to spare his life. The recording captures Thomas calling out to his father for help: "Dad, dad!" At a demonstration outside the Fullerton Police Department weeks later, one protestor told Reason TV, "You actually hear him calling out for his dad. It definitely did something to my heart hearing and seeing that."
After initial interest the media stopped covering the story. Local reporters lean heavily on public information officers when reporting on crimes, and the Fullerton Police Department released only sparse details about the incident. "Nobody wanted to pick it up," says Kelly's father, Ron Thomas.
So Thomas snapped a horrifying photo of his son in the hospital still fighting for his life. "I don't know why I did it," he says. "I just felt like I needed to take pictures." Thomas then passed along that photo to a local blog called Friends of Fullerton. He also shared footage of the incident given to him by a bystander who shot it. The video and picture went viral.
The Fullerton community erupted, staging several large protests in which demonstrators held up photos of Thomas' face. "It's just as wrong with or without the picture," said one protester, "but sometimes a picture helps people realize what happened."
On September 21, 2011, the Orange County District Attorney's Office filed criminal charges against Ramos and Cicinelli. The D.A.'s office supplemented the cellphone recording with video from a city surveillance camera, plus footage from belt recorders that the six officers were wearing that night.
At the trial, the defense maintained that Thomas had an enlarged heart, that he had died from overexerting himself, that the use of force was justified, and that the hospital photo taken by his father showed just superficial bruising-explanations that apparently convinced the jury.
Absent federal charges, which the U.S. Department of Justice is mulling, the killers of Kelly Thomas were set free. But cops everywhere won't forget that the next time they respond to a call the whole world may be watching.