EU, US Impose Sanctions, Asset Freezes, Travel Bans in Wake of Crimea Referendum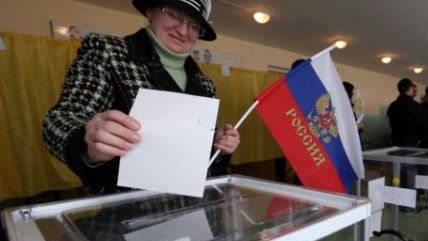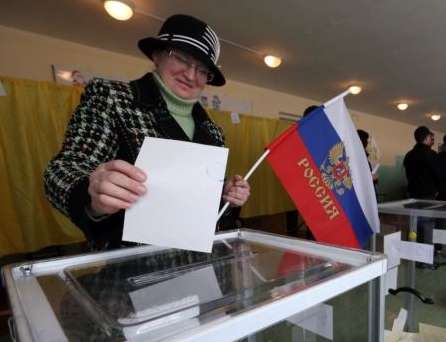 Yesterday, some of the residents of Crimea voted on whether they wanted to join Russia or increase the autonomy of the Ukrainian peninsula. Residents could not vote to maintaining the status quo. According to officials, over 97 percent of those who voted backed joining Russia. CNN reported that many ethnic Ukrainians and Tatars boycotted the vote and that 80 percent of those who showed up at a polling station in the city of Bakhchysaray were not on the electoral roll. The government in Kiev says it will not recognize the results.
The European Union and the U.S. had warned Russia that if the referendum, which they said was illegal, went ahead there would be consequences. Today, the E.U. announced travel bans and asset freezes on 21 Russian and Ukrainian officials and President Obama signed an executive order expanding already existing sanctions that, according to the White House, intend to "impose costs on named individuals who wield influence in the Russian government and those responsible for the deteriorating situation in Ukraine." The executive order targets seven Russian government officials, two Crimea separatist leaders, and former Ukrainian President Viktor Yanukovych, and former chief of staff Viktor Medvedchuk.
The news of the E.U. and American measures comes on the same day that Russian Deputy Economy Minister Sergei Belyakov said that the state of the Russian economy "shows clear signs of a crisis." According to Reuters, many economists expect Russia to enter recession and billions of dollars worth of capital has left the country since the beginning of the year. However, the E.U. and U.S. actions announced today target individuals, and The Irish Times notes that traders believe that the sanctions and other punitive measures from the West are mostly symbolic.
Speaking today about the ongoing crisis in Ukraine, Obama said that he told Russian President Vladimir Putin that the recent Crimean referendum violated the Ukrainian constitution and international law and said that the U.S. is willing to impose further costs on Russian officials.
More from Reason on Ukraine here.