Cop Who Killed Kelly Thomas Gets Calmly Booted From Denny's by Other Patrons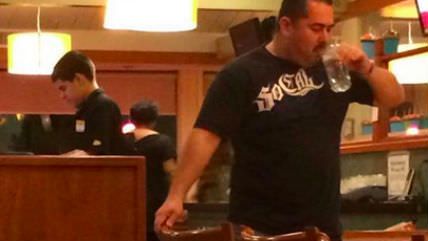 A couple of weeks after being acquitted of beating an unarmed homeless man to death in Fullerton, California, former police officer Manuel Ramos decided to throw on his SoCal t-shirt and pop out to the local Denny's.
Looks like the locals weren't quite as ready as the courts to forgive and forget this:
On the evening of July 5, 2011, the Fullerton Police Department received a call that someone was trying to break into cars at the town bus depot. Ramos and another officer arrived on the scene and encountered Thomas, a mentally ill local who Ramos had met before. (Thomas wasn't breaking into any vehicles.) When he didn't obey Ramos' commands to put his hands on his knees, Ramos started swinging his baton at Thomas' legs. Soon six officers, including Cicinelli, were on the scene, crushing and pounding the unarmed man. Cicinelli later recounted that he hit Thomas' face 20 times with a Taser.
So when Ramos hit up Denny's last month, someone posted this account on Facebook:

Alongside it, this photo of Ramos slugging his beer (UPDATE: or water?) as he got up to leave: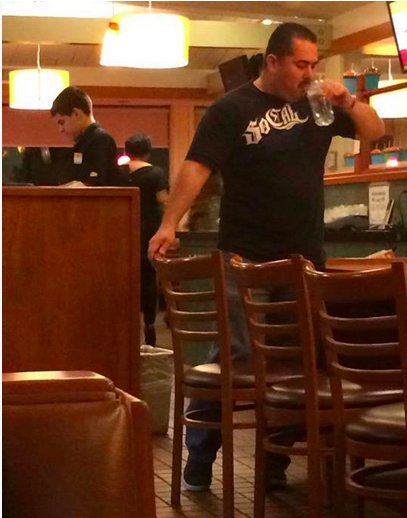 Well played, Denny's patrons. Reason's own Jacob Sullum has convincingly made the case why Ramos shouldn't be retried for the killing, but three cheers for non-violent social censure where the justice system failed.
Reason and Reason TV have been all over the Kelly Thomas case. Check out a couple of the videos to learn more about the story: