Colorado Couple to Open First Officially Approved Cannabis Café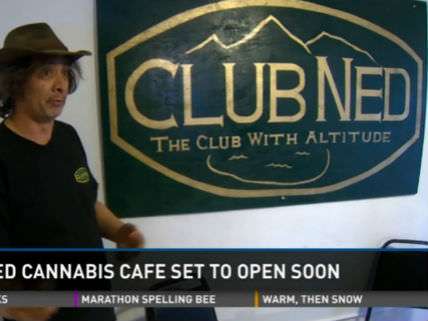 One of the disappointing aspects of marijuana legalization in Colorado and Washington is that neither state allows the sort of cannabis cafés you will find in Amsterdam and other Dutch cities, which sell marijuana along with food and beverages. Both states ban on-site consumption at licensed pot stores, which are barred from selling anything other than marijuana products and paraphernalia. Furthermore, Colorado's Amendment 64 says "nothing in this section shall permit consumption that is conducted openly and publicly," while Washington's I-502 bans consumption "in view of the general public." Finally, both states have laws that ban smoking inside bars and restaurants. But there are various possible ways around these restrictions, including the route taken by Cheryl and David Fanelli, who plan to open what KUSA, the NBC station in Denver, describes as "the only legally sanctioned cannabis club in the country" this month in Nederland (elevation: 8,228 feet; population: 1,500)
The Fanellis are taking advantage of an exception to the Colorado Clean Indoor Air Act for "a place of employment that is not open to the public and that is under the control of an employer that employs three or fewer employees." The same exception covers VFW posts, Elk's clubs, and other private, members-only spaces where smoking is allowed. The Fanelli's establishment, Club Ned, will be open only to dues-paying members, who will have to make appointments and bring their own pot. But Club Ned will have tables and sell refreshments, creating something resembling the convivial, tavern-like atmosphere at Dutch "coffee shops" (which are not legal, strictly speaking, but have been tolerated for decades). Since David Fanelli mentions an "acoustical stage area," I gather that there will be live music as well.
The Fanellis ran their business plan by the city, the fire marshal, and the local district attorney to make sure they were doing everything legally. It took 14 months. The aim, Cheryl Fanelli explains to KUSA, the NBC affiliate in Denver, is to "keep everybody safe in a nice place where someone can watch over them." Her husband is bursting with pride. "Is this history?" he asks. "This is history. Are we pioneers? Maybe more than pioneers."
Club Ned is not the first venue in Colorado to provide a social setting outside the home where people can smoke pot together. That distinction belongs to Club 64, a floating pot party that had its first event at a hemp clothing store in Denver on New Year's Eve 2012, right after Amendment 64's provisions protecting possession and noncommercial transfers of up to an ounce took effect. That experiment inspired various imitators. But Club Ned seems to be the first permanent cannabis club to receive explicit approval from local government agencies.
A private club is not the only possible approach. The Colorado Clean Indoor Air Act does not cover vaping or marijuana-infused foods, so a bar or restaurant should be able to allow those forms of consumption even inside, and the law does not apply to outdoor seating. Depending on how "openly and publicly" is interpreted, outdoor marijuana consumption, including smoking, could be legal on the patios or in the courtyards of Colorado bars and restaurants. It might even be legal in Washington, provided it is shielded from "the view of the general public."