Why Marissa Alexander's Second Trial Could Bring a Life Sentence Instead of 20 Years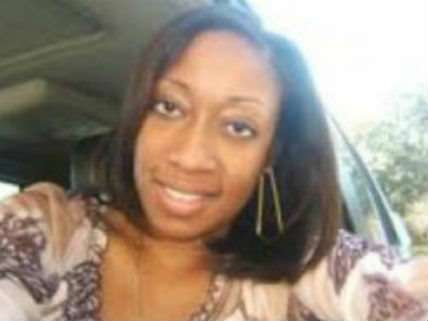 In a few months, Marissa Alexander, the Jacksonville, Florida, woman who received a 20-year mandatory minimum sentence in 2012 for firing a gun during a fight with her abusive husband, will have a second chance to make her case that she was acting in self-defense. Alexander, who says she fired a warning shot because she was afraid her husband would seriously injure or kill her, won a second trial by arguing on appeal that Circuit Judge James Daniel erroneously imposed the burden of proof on her in his jury instructions. But thanks to another decision by the same appeals court, Alexander's prison term if she is convicted this time around could be three times as long as the one she originally received—effectively a life sentence for actions that injured no one.
Alexander, who was freed on bail last November after 21 months behind bars, is charged with three counts of aggravated assault with a deadly weapon because her husband was accompanied by two of his children during the confrontation. Under Florida's notoriously harsh sentencing rules for crimes involving guns, each of those counts carries a 20-year term. Daniel made the terms concurrent, since all three charges arose from the same act. But last year the First District Court of Appeal ruled that state law "expressly authorizes consecutive mandatory minimum sentences" in such a situation.
Whether "authorizes" means "requires" is not completely clear from the decision. But the language of the statute suggests that judges have no discretion in the matter, saying "the court shall impose any term of imprisonment provided for in this subsection consecutively to any other term of imprisonment imposed for any other felony offense." Assistant State Attorney Richard Mantei, the lead prosecutor in Alexander's case, maintains that a 60-year sentence will be legally required if she is convicted again. But University of Florida law professor George Dekle, a former prosecutor, says such an outcome would create the appearance of vindictiveness, which could give Daniel, who is still overseeing the case, a reason to stick with the original sentence, or at least give Alexander grounds for appeal.
Other Florida appeals courts have reached different conclusions about the propriety of consecutive mandatory minimum sentences for charges arising from the same course of conduct. That issue also came up in the case of Michael Dunn, who last month was convicted on three counts of attempted murder for firing a gun at an SUV full of teenagers after an argument over loud music at a Jacksonville gas station in 2012. If Dunn's sentences for those offenses and a related charge are imposed consecutively, his total prison term will be 75 years, compared to 20 years if he serves the sentences concurrently. Ultimately the Florida Supreme Court will have to settle the question of which approach is correct.
Whatever the court decides, one thing is clear: If a 20-year prison term was a grossly disproportionate sentence for Marissa Alexander, which it surely was, the equivalent of a life sentence is, or should be, unthinkable. Even if you do not buy her story, even if you believe she fired more in anger than in fear, the time she has already served (nearly two years) should be adequate punishment for firing a single round into the ceiling. Mantei complains that "Ms. Alexander has rejected all efforts by the State to resolve the case short of trial." But if all of the state's offers have involved additional time in prison, as seems likely, the responsibility for the enormous injustice predicted by Mantei lies with him, not with Alexander. If he takes seriously his responsibility to seek justice and not merely convictions, he will try harder to avoid a trial.