Arizonans Want Abusive Border Patrol Checkpoint Removed From Their Town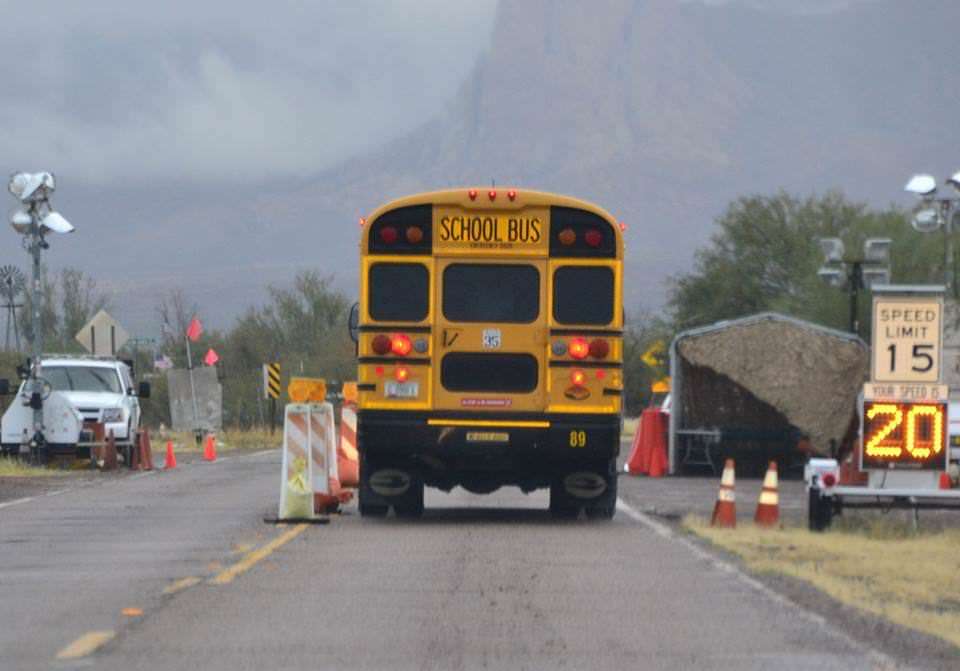 The experience of waiting in a line of cars to be questioned by uniformed men is all too familiar to people who live and work near the border. I've been stopped repeatedly within the "Constitution-free zone" at Border Patrol checkpoints where I've had to to assure officials of my citizenship. I've even taken to carrying my son's passport, just in case I have to prove his identity. But, as aggravating as these experiences are, they're worse for people who have to pass through these damned police state experiences every time they drive in and out of their towns—people like the residents of Arivaca, Arizona, who are now documenting abuses by federal officials and insisting that the checkpoint be removed.
For the Arizona Republic, Bob Ortega reports:
As part of a fight to remove longstanding Border Patrol checkpoints on the roads leading into their town, 60 miles southwest of Tucson, some residents of Arivaca said they will monitor one checkpoint today to see how many arrests and drug seizures the Border Patrol actually makes.

This appears to be the first independent effort to monitor any of the roughly 170 Border Patrol checkpoints on U.S. roads and highways.

Arivaca residents are regularly subjected to delays, searches, harassment and racial profiling at the checkpoints, said Leesa Jacobson, one of the organizers.
Jacobson says the town's school buses have to go through the checkpoint every day, as depicted in a picture of a bus at the Arivaca checkpoint, above, from the End Border Patrol Checkpoints Facebook page. The caption for that photo points out:
Our children live in a world where they pass through a military-style checkpoint every morning and afternoon for school. Every time their parents take them to Tucson shopping. Every time they go to a friends house in Amado, or to Karate in Sahuarita. Men carry guns, dogs bark, lights flash.
Quite a lesson for the kids. Daily interrogations by armed officials at checkpoints provide the sort of social studies education you can't get anywhere else.
Resistance isn't really an option at these checkpoints, either, unless you have time to kill and a lawyer on speed-dial. What started as immigration control efforts have now become all-purpose law-enforcement fishing expeditions at which virtually anything can be deemed suspicious and grounds for vigorous shakedown.
In an article in Reason's January 2014 issue, Wes Kimbell described the experience of Pastor Steven Anderson when he raised objections at a Border Patrol checkpoint.
During a routine trip from San Diego to Phoenix in 2009, Pastor Steven Anderson was stopped at an internal immigration checkpoint about 70 miles from the Mexican border. A stern-looking Border Patrol agent asked Anderson to provide proof of citizenship and requested permission to search his car.

The persistent pastor declined both, citing his Fourth Amendment protection against unreasonable searches and his Fifth Amendment right against self-incrimination. He then asked to be allowed to go on his way. The request was denied.

After a period of dithering, agents announced that a police dog had alerted to potential contraband in the vehicle. They instructed Anderson to pull over into a secondary inspection area. The pastor repeatedly refused, at which point a Border Patrol agent and a state police officer simultaneously broke both windows of his car and shot the pastor with Tasers from each side, delivering lengthy and repeated shocks while Anderson repeatedly screamed in agony.
Imagine being stopped by those goons every single day, with the potential of an experience like Anderson's as the reward for ticking-off an agent.
No wonder the people of Arivaca want the checkpoint gone.
The University of Arizona's Terry Bressi has documented and recorded a series of unpleasant encounters, including arrest, at Border Patrol checkpoints. He maintains the Checkpoints USA website and was interviewed for Reason TV by Tracy Oppenheimer