Alaska Could Be the Next State to Legalize Marijuana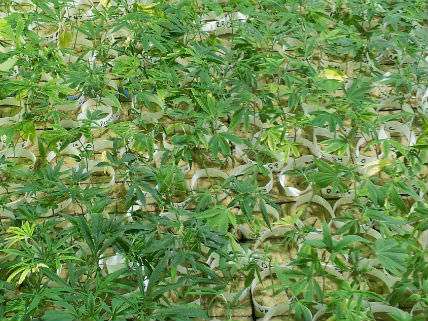 Possession and consumption of marijuana have been legal in Alaska since 1975, when the Alaska Supreme Court ruled that such activity is protected by the state constitution as long as it is confined to the privacy of the home and involves "personal use" amounts. It looks like an initiative that finally addresses the question of where people are supposed to get this pot they are allowed to smoke will be on the ballot this August, which could make Alaska the first state to join Colorado and Washington in legalizing marijuana. This week an official count certified enough signatures to qualify the initiative, which aims to "regulate marijuana like alcohol."
Like Colorado's Amendment 64, the Alaska initiative would allow adults 21 or older to possess up to an ounce of marijuana at a time, grow up to six plants at home, and transfer up to an ounce at a time to other adults "without remuneration." It authorizes state-licensed growers, cannabis product manufacturers, and retailers, to be regulated by Alaska's Alcoholic Beverage Control Board or a separate agency created by the state legislature.
A recent survey by Public Policy Polling put support for legalizing marijuana at 55 percent in Alaska, similar to the poll numbers seen in Colorado and Washington prior to the 2012 elections, which accurately predicted the results in those states. Alaska's lone congressman, Don Young, a Republican, is a co-sponsor of the Respect State Marijuana Laws Act, which declares that the provisions of the Controlled Substances Act dealing with cannabis "shall not apply to any person acting in compliance with state laws." Young says "it's a states' rights issue, period."
Also this week, two legalization initiatives were approved for signature gathering in California, where voters rejected legalization in 2010 by an eight-point margin. They would appear on the November ballot if they qualify.