Can Detroit's Rich Business Kings Save the City?
Not if their grand plans require grand corporate welfare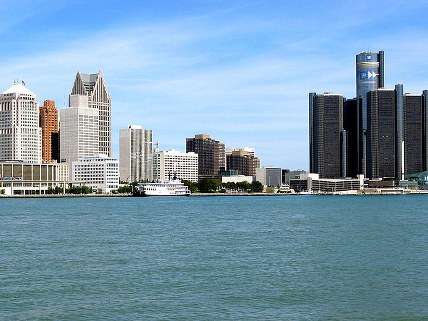 While the rest of the country remains focused on Detroit's bankruptcy travails, the big story in the city itself is the group of private investors who are attempting an ambitious urban turnaround. Led by Dan Gilbert, owner of Quicken Loans Inc., they are trying to rebuild everything—retail, housing, start-ups, transit and even street life—in the seven-square-mile downtown area.
Their theory is that a thriving core will lift the rest of the 130-square-mile city out of its economic torpor. The challenge for the new mayor, Mike Duggan, will be to let this grand experiment in private social engineering proceed without shortchanging the rest of the city.
Bankruptcy has exposed how powerful unions have contributed to Detroit's decline by extracting extravagant pension sweeteners and other benefits. But the other cause of the city's troubles (and one that doesn't show up on its books) is the corporate welfare—tax breaks and write-offs—it has historically lavished on casinos, stadiums, big events and other flashy private projects whose promises of urban renewal never materialized.
The latest revival plan is different, its backers say. Called Detroit 2.0, it takes a holistic approach, instead of pinning its hopes on any one project.
Gilbert started by scooping up 40 downtown properties, some of them historical gems, that were empty or in foreclosure, available for pennies on the dollar. He isn't simply sitting on them waiting to make a killing if the city bounces back. He is trying to make the comeback happen.
According to his real estate czar, Matt Cullen, more than half of the $1.3 billion Gilbert has invested in the city has been used to acquire and renovate buildings. Gilbert has also moved his suburban headquarters to downtown—bringing 7,000 employees to work in the city. Other large employers such as General Motors Co. (GM) and Blue Cross Blue Shield of Michigan have followed suit, bringing about 3,000 more.
What's more, Cullen notes, Gilbert has renovated the buildings as office space and apartments. The office space is almost fully occupied. To encourage occupancy for the apartments—and rebuild Detroit's hollowed-out population—Gilbert, along with other downtown companies, created a program that offers subsidies to anyone who wants to rent or buy housing in the area targeted for renewal.
Gilbert has also collaborated with local investors to begin Detroit Venture Partners, which seeds early-stage technology companies that locate in the city in the hope of turning Woodward Ave., the main drag, into "Webward Ave."
Detroit's lack of street buzz is eerie. Its boarded-up stores discourage foot traffic—and the lack of foot traffic discourages stores, the two essential ingredients for a vibrant city. Gilbert's team is attacking both ends: aggressively courting retailers and making efforts to bring back pedestrians.
It convinced local information-technology companies to allow some employees to work out of local cafes every week and paid cafe owners to reserve tables for them. To ensure that commuters don't speed away to their suburban homes after work, it organized evening lawn games, concerts and other events last summer.
There is no doubt about Gilbert's good intentions. Yet there are reasons to worry whether his downtown makeover will stick and how it will affect the rest of the city.
For starters, should the broader national economy tank, forcing Quicken and other companies to resort to layoffs, the city wouldn't be able to hang on to its new population, which predominantly consists of singles and renters.
More to the point, though Gilbert and his fellow investors have provided plenty of their own money, their revival plan may still be a net drain on city resources.
Cullen disputes this, noting that Gilbert doesn't even rely on the city for security (he had an elaborate surveillance system installed in one of his downtown buildings to watch the neighborhood). GM and other businesses donated police cars and ambulances to prevent cuts in public services due to bankruptcy. Moreover, given that Detroit taxes anyone who works in the city, the influx of new employees will rebuild the revenue base.
Nor has Gilbert received many special subsidies or tax breaks from the city, Cullen says, with the exception of one site that is in a Renaissance Zone.
But Gilbert received almost $50 million in tax breaks from the state of Michigan when he relocated his headquarters to Detroit. Other investors have received even more.
An element of the revival plan is a $650 million entertainment complex that will house a new Red Wings ice arena. Mike Ilitch, founder of the Little Caesars pizza chain and the owner of the hockey team, will have monopoly rights to ticket and concession sales without contributing anything to the arena's construction. The facility is being financed entirely by tax-exempt state bonds that will be paid off by property taxes collected from area businesses. Ilitch himself will be exempt because he insisted on leasing instead of buying the arena from the city.
Likewise, a local partner of Whole Foods Markets Inc. (WFM) received $4.2 million in city and state tax breaks. Papa Joe's, an even more upscale food market, qualified for "Green Grocer Project" tax breaks. Less-upscale Meijer Inc. was ensconced in a development that received a $10.8 million break in school taxes. It also received $6.1 million in brownfield tax credits; Schostak Brothers & Co. got $27 million in such credits for an office tower.
More troubling, says Rodney Lockwood, an area developer who has offered his own plans to revive Detroit, these new businesses can apply for a 50 percent property tax abatement for 12 years when they redevelop property for higher use. But the city won't adjust the tax assessments of existing businesses, even after their property values crash.
This creates a two-tier tax system that makes it difficult for these businesses. "Whatever the impact of new businesses on downtown," Lockwood says, "they'll have a negligible to negative impact on the rest of the city as existing businesses shut down."
The playing field isn't the only thing skewed by the revival project; the priorities for reform are affected, too.
Like other declining cities, Detroit has excessive infrastructure that is too expensive to maintain or tear down. Incredibly, however, Gilbert and his cohorts have spearheaded a $140 million project to build a 3.3-mile streetcar line along Woodward Ave. It won't cost the city anything because private philanthropists and a federal grant are financing the construction—and a state regional transit authority will pick up the operational expenses, Cullen says.
What's the point though? It isn't needed to alleviate traffic congestion: Woodward often resembles a ghost town even during rush hour. It is to give young technology workers living and working in downtown a quick way to get to the entertainment district in midtown.
In most cities, people use taxis or car services for such purposes. It would make far more sense to ease the tight cap on medallions and onerous regulations that have undermined competition in Detroit's cab industry. But cab deregulation, never a popular cause with local politicians, would be an even lower priority since these services would compete with the streetcar. This will close off an avenue of entrepreneurship for Detroiters.
Detroit's bankruptcy managers are tackling the ravages caused by those motivated by self-interest in the past. The new mayor's job will be to make sure the city doesn't get carried away by grand plans of those purporting to act in its interest.
This column was originally published in Bloomberg View.