Delaware Faces Lawsuit Over Campaign Finance Law That Targets Political Speech
"Third party advertisements" subject to disclosure forms that haven't been published yet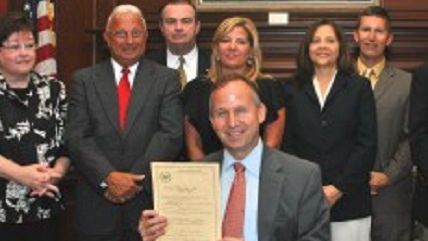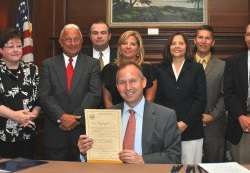 Free speech'll cost you if you're talking about politicians. Last year, Delaware passed broad new laws on campaign finance "reform" that politicians claimed would lead to more "transparent" government. Among the bills signed into law was HB 300, which aimed to require "[p]ersons who buy ads that do not use 'magic words'" but "advocate indirectly for a candidate" to file the same disclosure reports as other purveyors of "electioneering communications." The law's definition, unsurprisingly, takes an expansive view of just what that means, "third party advertisements that refer to a clearly identified candidate and are publicly distributed within 30 days before a primary or special election, or 60 days before a general election."
The measure has now yielded a lawsuit from the Center for Competitive Politics, filed on behalf of Delaware Strong Families, an affiliate of the Delaware Family Policy Council that puts out a "values voter guide" that lists the answers candidates give to questions ranging from the estate tax to Planned Parenthood funding. The Center for Competitive Politics claims the new law would force Delaware Strong Families to submit to "substantial regulatory burdens while violating the privacy of even their small-dollar supporters." DSF says it won't publish another guide in 2014 absent a judgment in their favor, and the CCP argues that "the government cannot impose extensive regulatory burdens, or violate the privacy of donors, where an organization does not advocate for any candidate," pointing out that in its 1976 Buckley decision on campaign finance laws, the Supreme Court upheld disclosures only for groups that directly urged people to vote a certain way. In its synopsis, the Delaware bill quoted the recent Citizen United decision quoting a 2003 campaign finance decision quoting Buckley on helping "citizens make informed choices in the political marketplace."
The lawsuit additionally notes that the Commissioner of Elections was supposed to disseminate new disclosure forms by January 1, when the law first went into effect, but more than ten months later those forms have not yet been published.