Updated! Down Goes Boehner: Will Put Senate Bill to End Shutdown, Raise Debt Ceiling to Vote in House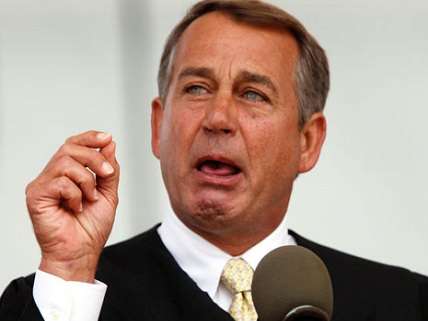 Scroll down for update at 1pm ET
Politico is reporting
[Sen. Harry] Reid (D-Nev.) and [Sen. Mitch] McConnell (R-Ky.) are very close to finishing an agreement to reopen the government through Jan. 15, lift the debt ceiling through Feb. 7 and develop a bicameral budget committee that would be required to develop a conference report by Dec. 13. The deal would also deliver back pay to furloughed federal workers, require income verification for people seeking health-insurance subsidies under the Affordable Care Act and also allow the Treasury Department to use extraordinary measures to pay the nation's bills if Congress doesn't raise the debt ceiling by Feb. 7.
There's this:
The bill will barely scathe Obamacare, however, and putting it on the floor will mark a huge concession by the House after sparking a 16-day government shutdown over insistence that the health care law be defunded or delayed as a condition to keep the government open. Dozens of conservatives in the House will be disappointed by the proposal and House Speaker John Boehner will need Minority Leader Nancy Pelosi to deliver a bevy of votes to pass the bill.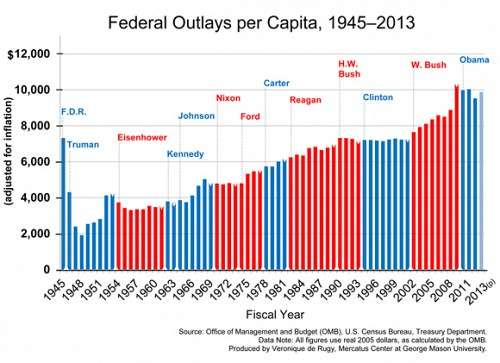 Via Instapundit and Hot Air.
Though it's a Senate bill, it will be voted on in the House first as a way to expedite passage. It's still not clear whether Sens. Ted Cruz (R-Texas) or Mike Lee (R-Utah) will bottle it up in the upper house or not.
Well, this is how the world ends, right? Not with a bang but with a whimper.
That said, I hope that someone in either party takes seriously the spending challenge posed by recent years and uses the proposed budget committee as a platform to explain why outlays need to be pruned back substantially. The short version is that under the best possible realistic scenarios, there's no way that spending and revenues will come close aligning. If the CBO is correct, they will narrow briefly before diverging. Neither the Senate nor the president's budget plans even bother to pretend to balance the budget and the House Republican version relies on, among other things, revenue from Obamacare taxes (while not including any spending on same). Reining in spending and reducing debt is not, as I've written, an "accounting fetish." It is a much-needed corrective to hugely expansionary and destructive increases in the size, scope, and spending of the federal government. Everyone from Barack Obama to Paul Krugman to Rand Paul agrees we've got a debt problem. But only one of those three acknowledges that we do today is implicated.
Update: Politico reports around 1pm ET:
McConnell's caucus showed remarkable unity after he briefed them on the contours of the deal, and conservatives said they will not block swift passage of the legislation in the Senate. After leaving the meeting, conservative senators said they will allow swift passage of the bill. Asked if he'd block a quick vote, Sen. Ted Cruz (R-Texas) answered: "Of course not."