Harper's Credits Rand Paul with Outflanking Obama on the Left on Drug Punishments
The bulk of this Harper's piece by Michael Ames is an interview with the always-interesting Neill Franklin of LEAP (Law Enforcement Against Prohibition) but it's framed with some nice praise for Sen. Rand Paul as mandatory minimums are called into question nationally: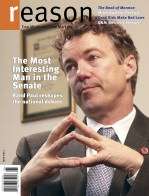 Twice now this year, Rand Paul has flanked the Obama Administration from the left. The first time, when Paul staged a dramatic thirteen-hour talking filibuster to protest the government's secretive drone-assassination program, the episode could have been written off as an opportunistic stunt. But with his latest move as the tacit leader of the disorganized libertarian-populist movement, Paul staked out less impeachable ground: America's cruel, racially biased, and generally nonsensical drug-sentencing laws.

Attorney General Eric Holder announced last week that the Justice Department will ease enforcement of mandatory minimums, the federal prison sentences that compel judges to lock up even nonviolent and first-time offenders of some drug laws regardless of the details of the case. Five, fifteen, and in some cases life sentences were first made mandatory for drug crimes with the Anti-Drug Abuse Act of 1986, legislation passed amid the hysteria of an urban crack epidemic and Ronald Reagan's war on drugs. Aided by such laws, the federal prison population has grown roughly 800 percent since 1980, with nearly half of all inmates held on drug charges. The status quo is untenable for reasons fiscal and philosophical, and Holder's decision was widely heralded as a welcome policy shift. Not everyone was convinced, though. For reformers who once hoped that Barack Obama would make a sincere attempt to address the outrages and immoralities of the war on drugs, Holder's speech smacked of politicking — a double hedge against the right's libertarian awakening and the left's charges that the administration has done nothing on the issue…..

As the policies of libertarian populism come into focus, Rand Paul's threat to the establishments of both parties will likely increase. He doesn't have to adopt his father's strident purism — Ron Paul wrote that drug prohibition of any kind is "incompatible with a free society" — to push an agenda of sensible reform. The Democratic Party won't credit him with leading on an issue that should be theirs, and the G.O.P. establishment still can't decide whether libertarians pose a path to victory or an existential threat. But Paul is nimbly pushing his own agenda to the fore. And with popular opinion about America's drug laws squarely on his side, the rest of Washington will have little choice but to keep up.