Gallup Poll of Small Business Owners Finds They Are Most Optimistic Since 2008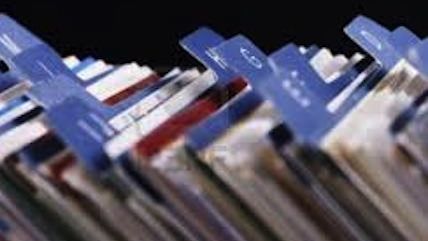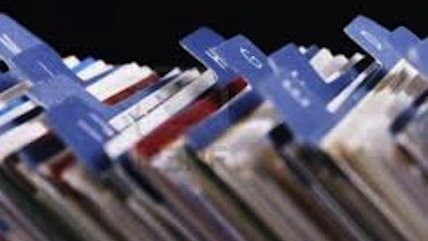 A recent Gallup survey of 603 small business owners finds they are more optimistic today than they have been since late 2008. Positive expectations of the future drive their optimism more than their present experience, as well as their belief that credit will become more available.
Gallup asks a series of questions to create a business index about each business owner's current financial situation, revenue, cash flow, capital spending, number of jobs, and ease of obtaining credit. In the early 2000s the index rose to the triple digits but then plummeted to -21 in 2009. Numbers have crept back up in 2013 rising to 25 in July, up from 16 in the second quarter.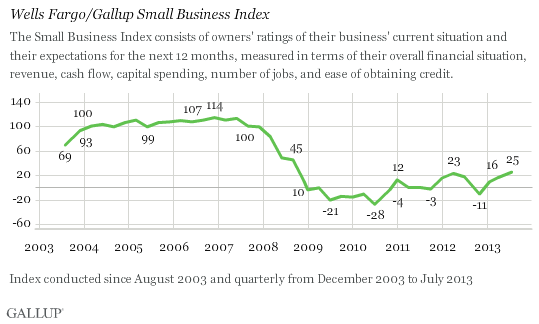 Gallup also constructs a Future Expectations Dimension index, measuring business owners' expectations over the next 12 months. This index also rose to 21 in July from 14 in April. However, this index has ebbed and flow since 2009, reaching no where near the levels of the early 2000s.
In 2007 about 56% of small business owners said access to credit was easy and 13% said it was difficult. By 2009 trends reversed and the share of business who had easy access to credit plummeted to 20%. These trends have remained fairly consistent over the past few years, but with slight signs of improvement.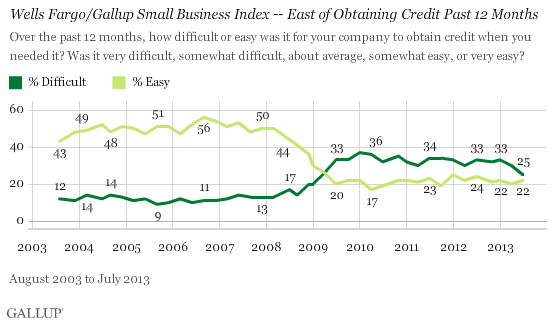 For full results visit Gallup.com