Feds Seize $841,883 from Used Car Dealer Accused of—Well, Nothing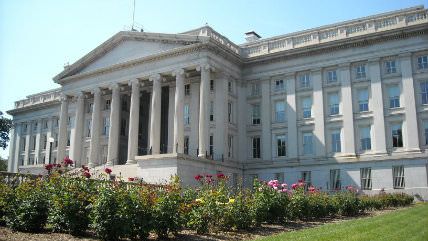 (Wikimedia Commons | AgnosticPreachersKid)
Reza Ella, an Iranian-American who owns a car dealership in Albuquerque, New Mexico, may or may not be a criminal. Federal prosecutors don't know or won't say. But last September, they seized $841,883 from Ella anyway because the man deposited it in increments of less than $10,000.
Anyone depositing more than $10,000 in the bank has to file a report with the Department of the Treasury—because terrorism/drugs. Making deposits of less than $10,000 so as to avoid filing said reports—called "structuring"—is illegal and can trigger asset forfeiture whether or not there is any underlying criminal activity.
From the Albuquerque Journal:
The federal complaint against Ella does not allege that he is involved in a criminal enterprise.

According to the forfeiture complaint, Ella and one of his employees made approximately 223 structured cash deposits totaling $1,728,722.21 … between Sept. 19, 2011, and July 3, 2012.

Each deposit was less than $10,000….

Of the approximately 223 cash deposits, 37 were same-day deposits at two banks totaling over $10,000 per day.

On seven occasions, same-day deposits were made at three banks totaling over $10,000 per day, according to the complaint.

[Ella's lawyer] said that during the same time period covered by the complaint, Ella did sign currency transaction reports more than a dozen times.

…The complaint also brings up the last time he was targeted by federal agents. "Ella had previously engaged in illegal structuring of cash transactions between 2005 and January 2007, Ella had structured cash withdrawals at Wells Fargo Bank. On February 23, 2007, the FBI executed warrants on two accounts at WFB held by Ella totaling $489,732.02."

The complaint doesn't mention that all but $12,000 of that money was returned to Ella.

…"They ambush you," he said. "They don't tell you they are seizing your bank accounts. You find out when checks are returned.

"You go to the bank and everyone stares at you. They think you're crooked."

The latest case, he said, has left him exhausted and his business suffering.
Yes, Ella has been charged with structuring before. You'd think he'd have taken this particular bit of paperwork more seriously. Then again, if the feds want to nail someone, and it sure looks like it here, no amount of law abiding will forestall prosecution.
I'm sympathetic to the claim that sometimes prosecutors have to rely on financial crimes to put away bad guys whose real crimes cannot be proven beyond a reasonable doubt. But they're not trying to put Ella in jail, and there isn't even an allegation that he's a bad guy. They're just stealing his money.
Ella's attorneys have requested a jury trial.
The complaint is below: