ACLU Reverses Its Position on Retrying George Zimmerman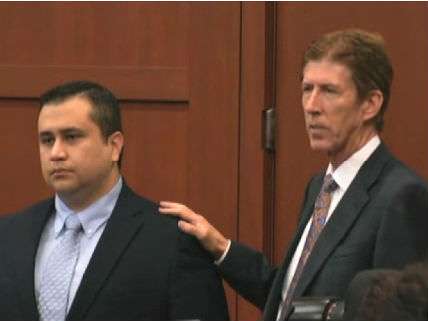 In my column last week, I noted that the American Civil Liberties Union had endorsed the idea of bringing federal charges against George Zimmerman following his acquittal by a state court in the death of Trayvon Martin. In a statement issued on July 14, the day after the verdict, ACLU Executive Director Anthony Romero said "it is imperative that the Department of Justice thoroughly examine whether the Martin shooting was a federal civil rights violation or hate crime." But four days later, the ACLU offered a little-noticed "clarification" in the form of a letter to Attorney General Eric Holder from Laura Murphy, director of the ACLU's Washington Legislative Office, and Jesselyn McCurdy, senior legislative counsel in that office:
We are writing to clearly state the ACLU's position on whether or not the Department of Justice (DOJ) should consider bringing federal civil rights or hate crimes charges as a result of the state court acquittal in the George Zimmerman case. Even though the Supreme Court permits a federal prosecution following a state prosecution, the ACLU believes the Double Jeopardy Clause of the Constitution protects someone from being prosecuted in another court for charges arising from the same transaction. A jury found Zimmerman not guilty, and that should be the end of the criminal case.
As Politico's Josh Gerstein notes, that position is consistent with the ACLU's official policy on serial prosecutions, which says, "There should be no exception to double jeopardy principles simply because the same offense may be prosecuted by two different sovereigns." The ACLU abandoned that policy after the police officers who beat Rodney King were acquitted in 1992, when there was a split within the organization about whether they should be tried again in federal court. The group reaffirmed its opposition to double jeopardy in the form of successive state and federal prosecutions the following year.
It looks like the Zimmerman case has caused similar divisions among the ACLU's leaders between those whose primary concern is "racial justice" and those who prioritize civil liberties, the organization's raison d'etre. I am still waiting to hear back from ACLU media relations liaison Briana Ryan about Romero's demand for a federal investigation. If and when she calls, I will also ask about Murphy and McCurdy's contradiction of Romero.
[Thanks to Shawn Garner for the tip.]