Texas Cop Who Assaulted and Arrested Innocent Woman Has Been Charged With Assault and Arrested
Man bites dog.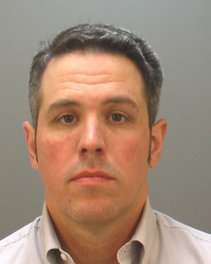 Just when you think the law enforcement industry has few-to-no internal checks and/or balances, a department up and surprises you by arresting one of its own for breaking the law. That's the case in San Marcos, Texas, anyway, where a patrolman was arrested today for assaulting a pedestrian.
According to KVUE, Cpl. James Palermo of the San Marcos PD was conducting a traffic stop around 1 a.m. on May 29 when a pedestrian happened to walk by his patrol car and the car of the driver Palermo had pulled over (for driving the wrong way down a one-way street). What happened next isn't all that uncommon in the annals of Cops Who Like to Throw Their Weight Around:
A pedestrian walking by was called over by Palermo and asked why she was walking by his traffic stop. He then asked for the woman's identification.

When the woman insisted she had done nothing wrong Palermo slammed her against the Prius; then onto the concrete driveway near his patrol car.

Palermo arrested the woman for obstruction. After his supervisors reviewed his report and talked to the pedestrian she was released.

Upon further investigation supervisors found the woman had lost two teeth and suffered a concussion during the illegal arrest.

Palermo was arrested for aggravated assault by a public servant. The woman is currently being treated for her injuries and could require further surgery, according to the affidavit.
The Austin American–Statesman provides some more context on the exchange (Hat tip to commenter John Thacker):
She didn't look or talk to Palermo or the driver as she walked by, and she didn't make any suspicious movements or gestures, the affidavit says.

Palermo called her over and started talking to her about walking near the traffic stop, which was taking place in the driveway of a local business and near a sidewalk, the affidavit says. The woman disagreed that she did anything wrong, and the conversation became argumentative when he asked for her identification, which she couldn't immediately find, the affidavit says.

The woman insisted she had done nothing wrong and suggested he conduct traffic stops somewhere else, saying that he was apparently in a bad mood and taking it out on her, calling him a "dick," the affidavit says.

Palermo immediately moved toward her and she stepped back as he approached, the affidavit says. He grabbed her and pushed her against the back of the car he had stopped, then quickly spun his body and slammed her onto the concrete driveway between his patrol car and the stopped car, the affidavit says. He then handcuffed her and put her in his patrol car, saying she was under arrest for obstruction.

She was taken to the hospital, where medical staff told her and Palermo that she would need follow-up care for her injuries — broken teeth, a concussion and "other injuries as a result of Cpl. Palermo's actions," the affidavit says.

Palermo then took the woman to the jail, charging her with obstruction, resisting arrest and public intoxication.
After a seemingly lengthy internal investigation Palermo was charged today with "aggravated assault with serious bodily injury by a public servant, a first degree felony," according to a statement from the San Marco PD.
BTW: "obstruction of justice" is code for not doing whatever a cop tells you to do the second he tells you to do it.