DOT Bounces California-Las Vegas High-Speed Rail Plan Out of Casino Bank
Federal loan for high-stakes gamble on train tourism will not be considered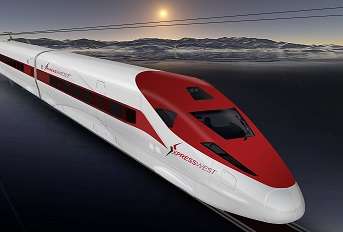 I have some good news for those attending Freedom Fest in Las Vegas this weekend to celebrate. It appears the absurd plan to build a high-speed train from the middle of the California desert to Las Vegas will not be getting a federal loan. Which may mean the whole plan is dead.
XpressWest (once known as DesertXpress) proposed building a high-speed train from Los Angeles to Las Vegas to bring in the tourists. Except it didn't start in Los Angeles. It started near Victorville, requiring train users to travel a third of the way to their destination through other means, and it was the part with the worst traffic, no less. For this they wanted a $5.5 billion loan from the Federal Railroad Administration to pay for much of this proposed $7 billion project.
The plan made some truly absurd claims, not unusual for these high-speed rail projects. They argued the ridership would be enough to divert 25 percent of the traffic off of the highway leading between the California desert and Los Angeles Las Vegas.
The Reason Foundation (the nonprofit that publishes this site and Reason magazine) produced a study eviscerating any claims that this project could ever possibly work. Subsequently Rep. Paul Ryan (R-Wis.) and Sen. Jeff Sessions (R-Ala.) sent a letter to the Department of Transportation, partly drawing from the Foundation's report, to ask them not to approve the loan.
Yesterday, Ryan and Sessions released a letter to the comptroller general of the Government Accountability Office stating the DOT's review of XpressWest's loan application has been indefinitely suspended. They didn't get a copy of the DOT's actual letter essentially killing the loan, but they were told that "significant uncertainties surround the project." (Read the Ryan/Sessions letter here (pdf))
A call to the firm handling media for XpressWest has not yet been returned.
Technically, this doesn't mean the project is fully dead. They could make changes to it and try again. They could get private investment for … well, no, that probably won't happen.
Anyway, that's a $5.5 billion boondoggle that won't be happening for the time being. Enjoy the news and enjoy Reason Day at Freedom Fest tomorrow, if you're out there.
(UPDATE) Here's a statement from the train company provided to KSNV in Las Vegas:
Catherine Levy, the director of public affairs for XpressWest, provided this statement: "While the loan process for XpressWest has been suspended, it is our understanding the project is still being reviewed. We believe high-speed rail in the western United States is both feasible and desired. We await further information and direction from the Administration.